blog
Why 3D Virtual Demonstrations Help Sellers and Buyers
Estimated Reading Time: 3 minutes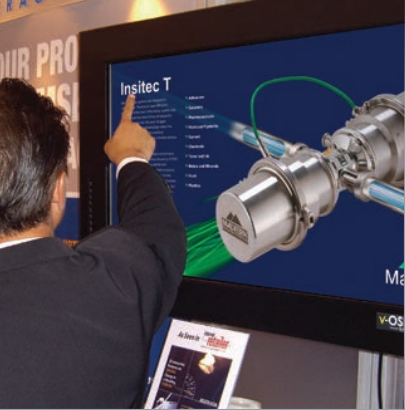 Innovative products and solutions benefit from innovative demonstrations. An interactive virtual 3D product demonstration enables your sales team to get prospective buyers interested and engaged with your solution in a way that's both practical and reliable. It is also an effective way to address the prospect's specific product-related concerns in real-time while acquiring important information from the buyer.
Amplify your marketing strategy and your sales through virtual demonstrations
Virtual demonstrations allow for interaction that may not exist with the physical product itself. Enhanced access to products can offer differentiated value to buyers and secure or increase deals you may have lost otherwise.
"At a trade show in Switzerland, we used the [virtual demonstration] on our interactive whiteboard, which was very popular, right next to the physical printer. That was powerful because it allowed us to drill down into the machine, seeing inside without taking it apart. And, we were able to talk about new technology that we wanted to demonstrate that will be included in our new product. When we introduced the RICOH Pro VC70000, it has a very unique, Ricoh-patented, paper-drying system that is difficult to see how it works when the machine is running, so the application contains an animation showing it at work. People at shows are really interested in seeing that."
– Mike Herold
Director of Inkjet Solutions at Ricoh
Interactive 3D product tours are photo-realistic and animated to mimic the physical product and provide a real-world experience for users. When built on a robust, purpose-driven platform, these interactions can provide data on what and for how long buyers explore to inform sales and marketing strategy.
Additionally, virtual demonstrations have proven effective at better qualifying leads, educating buyers, increasing engagement, shortening sales cycles, and driving down costs.
Customer engagement drives knowledge retention
Virtual demonstrations put buyers in the driver's seat, allowing them to immerse themselves fully in a product in ways that are not physically possible in real-life applications while controlling and personalizing their experience. Experiencing something is always more meaningful and memorable than hearing or reading about it.
In fact, marketers cite interactive content and experiences as being 93% effective in educating audiences as compared to static or passive content (Inc.).
Imagine yourself in the above scenario looking at a Ricoh printer. What would be the more engaging, impactful buyer experience: watching a video showing Ricoh's patented paper-driving system, or interacting with the product yourself via a virtual 3D demonstration that allows you to rotate and zoom in on the product to discover the value that's relevant to your needs? The virtual demonstration in this scenario also allows for a conversation and collaboration between buyer and seller through a shared experience. A video can't do that.
Try a 3D Virtual Demonstration!
Virtual Demonstrations Deliver Return on Investment
Not only do sales teams see higher engagement and knowledge retention from potential buyers, marketing realizes benefits from a cost and logistics perspective. In the above example, Ricoh saved approximately $1.2M annually by not having to ship multiple configurations of products or not having to ship products at all.
Sensus needed a way to show how their products worked while eliminating shipping costs and sending less equipment to events. Using virtual product demonstrations increased their trade show impact and traffic by 100%.
Natus' uses interactive solutions with virtual product demonstrations to tell a consistent and relevant story to prospects and sell a large volume of new products.
To experience a product for yourself means to be fully engaged, and fully engaged buyers are more likely to realize value, driving your sales cycle forward. Are you offering your audience an experience that will attract and hold their attention?
Experience More 3D Virtual Demonstrations
Get your copy →
Smart marketing leaders know digital transformation is an ongoing process vital to surviving recessions. Learn how they're using technology to meet evolving buyer demands.