case-study
Sensus Uses Virtual Product Demonstrations to Increase Trade Show Impact and Traffic 100%
The Challenge
Sensus is a global leader in utility infrastructure systems whose offerings include smart meters, utility communication systems, software and services for the electric, gas, and water industries. These technologies enable intelligent use and conservation of water and energy, improve operations and reduce environmental impact. However, effectively demonstrating these solutions outside of their natural environment proved to be challenging.
Sensus was looking for an engaging way to showcase its technology at industry trade shows
and provide interactive demonstrations, while decreasing the cost of its trade show expenditures. They needed a way to show how their products worked, while eliminating shipping costs and bringing less equipment to events. With three diverse utility audiences and product lines, Sensus was challenged with explaining and demonstrating key product features and technology at over 7 of its larger trade shows each year. To demonstrate the full breadth of its offerings, Sensus would regularly take between 10-15 physical products to its trade shows, from multiple utility divisions. Most of the products being shipped to shows were static and could not be demonstrated live, such as natural gas and water meters that are put on thick heavy metal high-pressure lines. There was simply no easy way to demonstrate a working meter on a network and its communications capabilities.
Another consideration was cost. Many of Sensus' most sophisticated products are heavy, one weighing nearly 700 pounds. Transporting and receiving these items was increasing the costs for each trade show with little or no value added. In recent years, Sensus streamlined its booth design to provide a clean, open environment to enable customer interaction and optimum traffic flow. However, the company still struggled with how to make their product demonstrations more effective while decreasing costs.
Sensus always relied on printed literature, animated presentations and videos alongside the static products to tell its stories, but these lacked the allure and the excitement to genuinely captivate prospects' interest and generate new prospects to the booth. Sensus had learned about Kaon's marketing applications, and immediately saw the benefit of utilizing 3D Product Models and interactive product storytelling to help bring its products to life at trade shows.
"With Kaon, we've been able to bring less equipment and infrastructure to our shows while better communicating how our products work."
– Alicia Massey
Marketing Communications Manager for Electric, Sensus
The Solution
Sensus turned to Kaon Interactive, an industry leader in interactive 3D product marketing, to create approximately twenty 3D and 2D product models for its electric, water and gas solutions to be utilized at trade shows in lieu of physical products. According to Marc Gura, Sensus Natural Gas Marketing Communications Manager, "With 3D product demonstrations running continually on the Kaon v-OSK® touch screen, it makes it much easier to engage customers within our booth and we've found it to be a phenomenal draw where people will gather to watch our interactive product demonstrations." The 3D Product Models (which look and behave exactly like the physical products) can be viewed from every angle, to explore options and unique features (open drawers, retrofit components, etc.), while clearly demonstrating how the product works. The Kaon v-Brief® then immerses prospects into a global overview of Sensus' network infrastructure, visually showing through interactive graphics communication flows and product operations within real-world scenarios.
Users can pull up a specific 3D Product Model within a residential or business environment, and visually show through touch screen interaction, amazing product details, sales notes, size dimensions and even zoom in for greater magnification. The interactive Kaon v-OSK also creates a central repository of marketing and sales materials, including video, collateral, testimonials and presentations than can be downloaded onto a Sensus-branded thumb drive, leaving the prospect with a positive and lasting impression of their experience.
This interactive content was deployed on the Kaon v-OSK, a large high definition touch screen appliance, catching attention of trade show prospects with its stunning visuals, and enabling Sensus to showcase their entire product portfolio like never before. "We no longer have to walk prospects from product station to product station in a cluttered booth to show them all the individual products," commented Alicia Massey, Electric Marketing Communications Manager for Sensus. "Sensus has reduced the need to ship products to shows, significantly improving the appeal of the booth and minimizing expensive shipping costs. It has made our trade show planning a lot easier," she concluded.
Truly Interactive Demonstrations at Trade Shows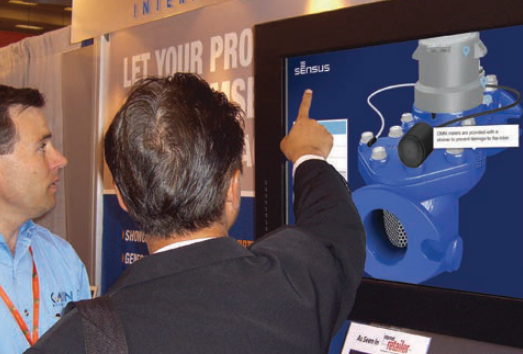 Kaon's 3D product marketing applications made it simple for Sensus to demonstrate its products like never before, with the ability to view all the features and functionality of even its most sophisticated products. While it had been difficult to explain the full story of how a communications network utility works, Sensus can show an intelligent endpoint on a house, in the ground or on a building and detail visually how data is communicated between the location and utility.
"Seeing the Kaon v-Brief in action with the ability for users to interact with product features, it is clear that our sales staff is much more engaged and animated when showing and telling our product stories during trade shows," observed Gura. "Our sales staff now has a visual story to follow that removes the feeling of a canned, one-size-fits-all presentation, and we can customize that story for each customer's interest whether it's a consumer, industrial, or residential-based application."
Now when Sensus has a dual utility customer in the booth, or a colleague interested in multiple industry solutions, the sales staff can quickly catch their eye by changing the demo on the touch screen and create an up-sell or cross-sell opportunity.
At DistribuTECH, the largest U.S. conference that covers the smart grid from-end-to-end, Sensus found that Kaon's interactive touch-screen appliance easily doubled the amount of visitor traffic within their trade show booth and increased the impact it had on the shows record-breaking 8,600 attendees. "The
Kaon v-OSK touch screen is a great interactive presentation tool that allows us, for the first time, to clearly and visually show prospects how our utility network connects with the products," said Massey. "At all of the shows I attended, the vivid, interactive touch screens attracted far more visitors to our booth to interact with the solutions and experience how the network functions. Our visitors are pleasantly surprised by what they see and respond well to the freedom we give them to explore the 3D Product Models and drive the interactive experience themselves."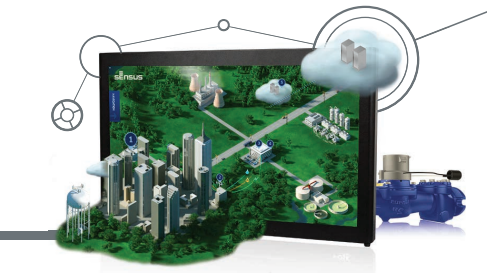 The ROI Advantage
In addition to the accelerated prospect knowledge, increased booth traffic and ability to show how its products work together, Sensus was also quickly able to achieve a financial return on investment.
"With Kaon, we've been able to bring less equipment and infrastructure to our shows while better communicating how our products work," said Massey. Sensus has reduced the number of products it brings to a show, while increasing impact and traffic by 100%. Not only did this enable them to better utilize their booth space, but it allowed the company to drastically cut the cost of transporting their products. With over 7 larger shows the company attends each year, Sensus is realizing tens of thousands of dollars in savings for product shipping and drayage.
To date, Sensus has created approximately 20 3D Product Models and continues to define its
strategy for using Kaon's interactive marketing solutions at trade shows. Sensus is also planning to extend the value of this interactive tool, making it available on their sales representatives' iPads® to put virtual products in their hands anywhere they encounter a prospect.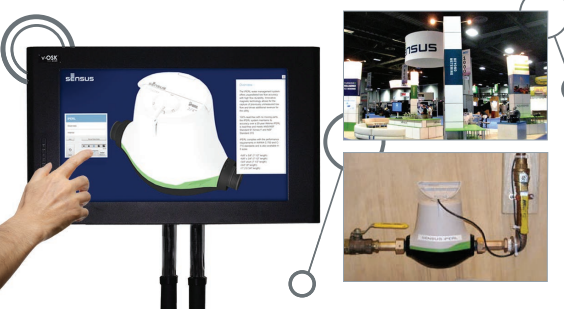 "The science Kaon puts behind its interactive solution has increased booth traffic and people can see what we are doing. It is like a bug light that attracts people."

Marc Gura, Natural Gas Marketing Communications Manager, Sensus
Learn More
Find out how the Kaon platform helps marketers innovate while achieving measurable business growth.