Powering customer engagement, everywhere.
Complete agility, zero waste, total omnichannel reusability.
70% of materials created by marketing go unused by sales every year. Why? Because it is difficult to cost-effectively communicate, execute, and maintain content to tell a complex story that resonates with everyone and perpetually changes.
Kaon provides marketers with an agile world-class platform to simplify complex stories and better engage prospects, with personalized value, throughout their hybrid buyer's journey. Our omnichannel approach (create once, use anywhere) drastically increases marketing ROI and enables selling at enterprise-wide scale.
Value Storytelling: Engage prospects with an unexpected, memorable experience that consistently shows your multi-dimensional value story in an intuitive way.
Complete Agility: Provide omnichannel buyer and sales enablement with customer solutions that meaningfully engage throughout the sales cycle.
Total Reusability: Reduce cost and resources by creating an application once and using it everywhere.
Innovation & Collaboration: Stay on top of the latest in B2B technology with features like augmented reality, and empower collaborative sales conversations with a range of tools.
ROI Impact: Higher engagement and knowledge retention accelerates revenue opportunities, and a comprehensive customer success program measures against your KPIs.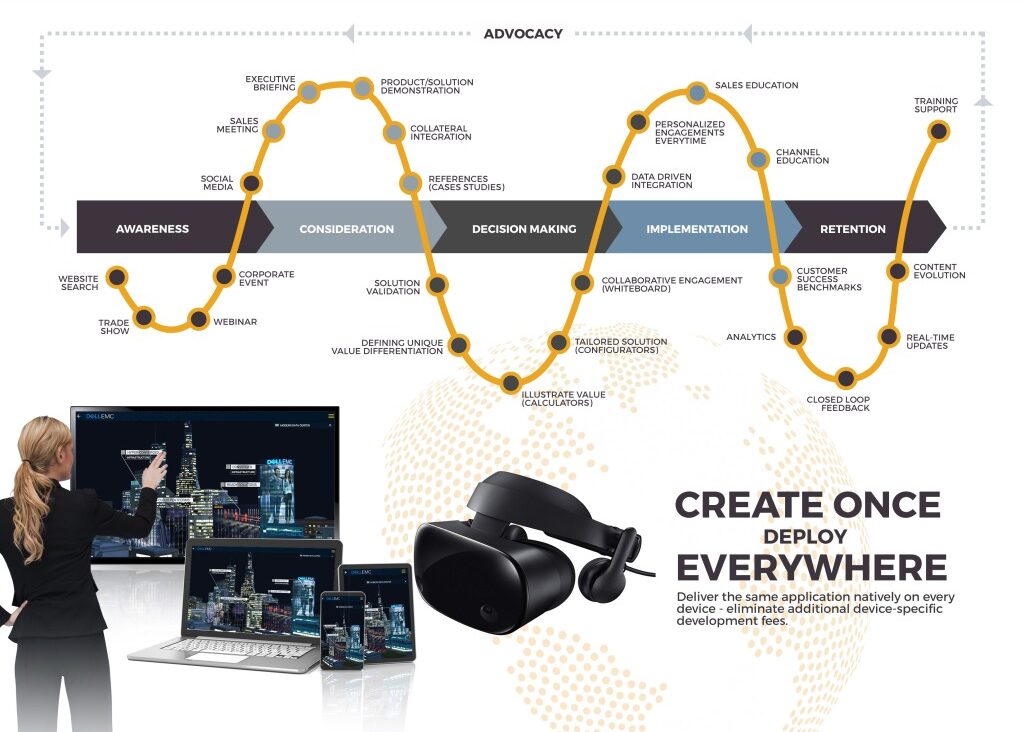 "There is a huge cost and time efficiency in not having to recreate this interactive content from scratch for future sales and marketing programs and devices. We want to tell our story everywhere our buyers are, and Kaon's platform affords us the ability to do that. Not only did Kaon help us push the envelope, they gave us an innovative technology platform that allows us to break new ground and raise the bar."

— Lumen Director of Solutions Marketing Strategy Becky Kelly
Explore
Discover the benefits of the Kaon Platform.