case-study
Lumen Increased Customer Engagement 400% with Value-Based Virtual Reality Experience
The Challenge
Lumen is a leading global technology company headquartered in Monroe, Louisiana, which offers a full range of communications and data services to enterprise customers, including government and wholesale; it also offers residential network services in 37 states.
Becky Kelly, director of solutions marketing strategy at Lumen, was looking for an innovative partner to push the envelope with their booth at AWS re:Invent. "We wanted to create a lasting experience for show attendees without spending exorbitant amounts of money. We wanted to achieve something meaningful that we could then grow for reuse. I wanted to create a theme we could tie things around to effectively tell our story and then use best practices for on future ones," she said.
After walking multiple tradeshow floors, the Lumen team started to ask themselves several poignant questions: "What's our thing? How can we create a lasting booth impression that tells our story in a way that people want to engage with? How can we move from an analog booth presence to a digital one? Could we do virtual reality (VR)? Is VR compelling enough for us? Will VR help us pull people out of the aisles and into our booth to learn more about us?"
With the recent acquisition of Level 3 Communications, Lumen was looking for a way to tell their combined company's value proposition in an impactful way to attendees. This significant digital booth experience was not integrated into booths at either company previously, but with elevated excitement and a little internal convincing, the team moved forward with the creation of an immersive VR application for the event. Just six weeks prior to AWS re:Invent, Lumen began to chart new territory in their event strategy.
We wanted to create a lasting experience for show attendees without spending exorbitant amounts of money. We wanted to achieve something meaningful that we could then grow for reuse. I wanted to create a theme we could tie things around to effectively tell our story and then use best practices for on future ones.
– Becky Kelly
Director of Solutions Marketing Strategy at Lumen
They turned to Kaon Interactive, the leading provider of interactive, 3D marketing and sales applications for global B2B brands, to help them create a transformative experience that would educate and empower their customers to make informed buying decisions faster. The goal was two-fold. First, in lieu of approaching tradeshow attendees cold, Lumen wanted to ease the barriers for their booth staff to engage prospects. Second, they wanted to have a better interaction with customers, once engaged, to help them understand why Lumen wasn't just their residential phone company.
"This is something that pushes the envelope, creates a lasting impression, and can offer us long-term extensibility. We took a big swing here and it worked very well," said Becky.
For Lumen, VR would inevitably become the tent pole that pulled everything together in their event strategy.
The Solution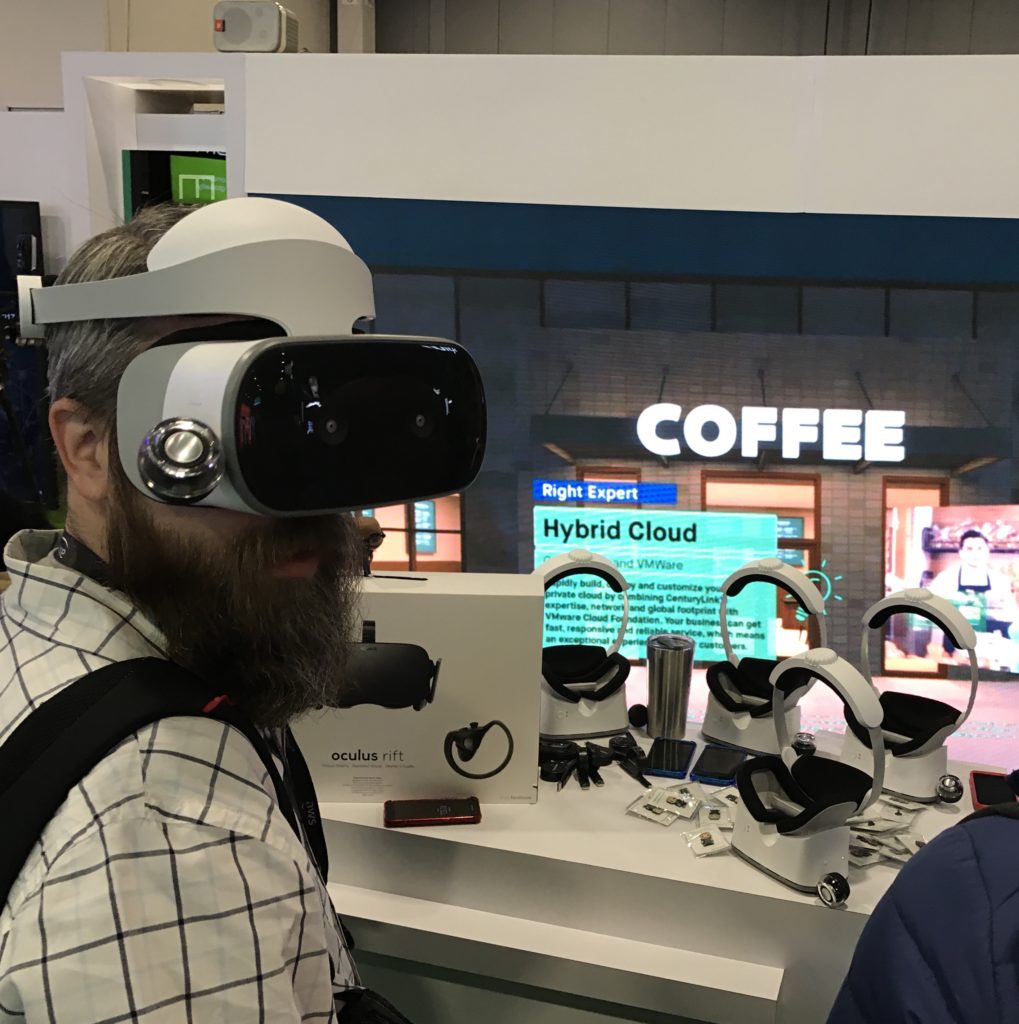 Lumen's immersive VR experience puts users into recognizable and relatable vignettes and environments that highlight 'why milliseconds matter' in those scenarios and why having the right cloud, the right network, and the right experts is so important. It is a delivery mechanism for Lumen to effectively tell its story around how technology is expanding into everyone's life while delighting and engaging its audience.
The VR experience starts with a 'connected city' that provides users with interactive touchpoints that communicate the value of Lumen's robust global fiber network. Through animations and videos, users have the ability to explore the world of autonomous vehicles, interactive signage, mobile communication, and cloud services.
One of the scenarios highlights a point-of-purchase display in a coffee shop with the Lumen network running underground to connect all of the customer experience points together.
Lumen wanted to bring to life the often-invisible and unthought-of places where their network and technology are connecting businesses securely and reliably. And, this VR application does that in a way that engages, educates, and excites users.
Flexible Virtual Reality Hardware
Collaboratively, Kaon Interactive and Lumen decided to use the Lenovo Mirage™ Solo with Daydream™ as the VR headset of choice. A first for the Google Daydream platform, the Mirage Solo functions as a standalone headset, meaning that it doesn't use a separate smartphone and isn't tethered by cords or Bluetooth to a PC.
This was the first all-in-one VR headset with six-degrees-of-freedom (6DOF) tracking, which makes a huge difference in the feeling of immersion when viewing interactive, real-time experiences. Other headsets offering 3DOF are designed for viewing 360-degree videos. Therefore, for truly lifelike, immersive, interactive experiences, 6DOF is a requirement. This standalone headset opened up a world of possibilities for engaging Lumen's trade show attendees. By eliminating the PC, tether, and external sensors, it became possible to outfit Lumen's condensed, 10×10 booth at AWS re:Invent with eight VR experiences. In total, 16 headsets were provided – eight for the booth and eight to keep charging as replacements.
For Lenovo, this became their largest enterprise tradeshow implementation of the Mirage Solo VR headset.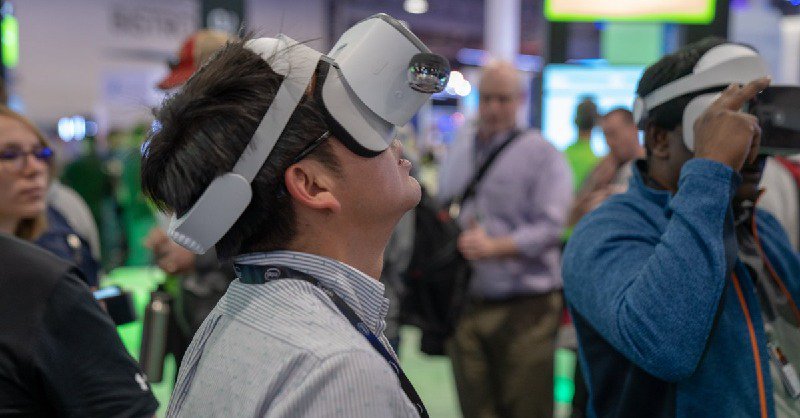 Lead Generation at AWS re:Invent and Beyond
Leads within the Lumen booth were scanned and captured after the attendees experienced the VR application. This immersive VR experience drove four and a half times the number of leads as the previous year's AWS re:Invent, where they had a larger booth space.
"One of the biggest successes in using the VR application was simply getting the team that staffs our booth into the aisles to engage prospects in a much more conversational approach," said Becky. "There was a comfort and ease, with both the untethered headset and the VR experience that generated a confidence in asking people to engage with it."
In the past, Lumen developed each new tradeshow concept from scratch. They often had one-time costs. "No longer do we need to discuss if catering is the right way to drive prospects into the booth," said Becky. "With this approach, we are focusing on long-term, reusable solutions."
The extensibility and reuse potential of this VR application will provide dividends moving forward, along with a more consistent event marketing strategy. At future events, Lumen plans to reuse the application, slightly modifying the cityscape to include different verticals and pivoting the vignettes to focus on more general Lumen capabilities.
"We hope to further amply our partner relationships (moving beyond just our Amazon Web Service partnership where we focused for AWS re:Invent) and look to gamify the application for users moving forward, creating a clear start point and finish point for customers," Becky said.
With big risk comes big reward. And, in just a short six weeks, Kaon Interactive developed a stunning VR experience (deployed on a newly released, untethered VR headset) that effectively communicated Lumen's holistic business value to AWS re:Invent attendees. "We took a risk by doing something new and were rewarded based on the event's overwhelming success," said Becky.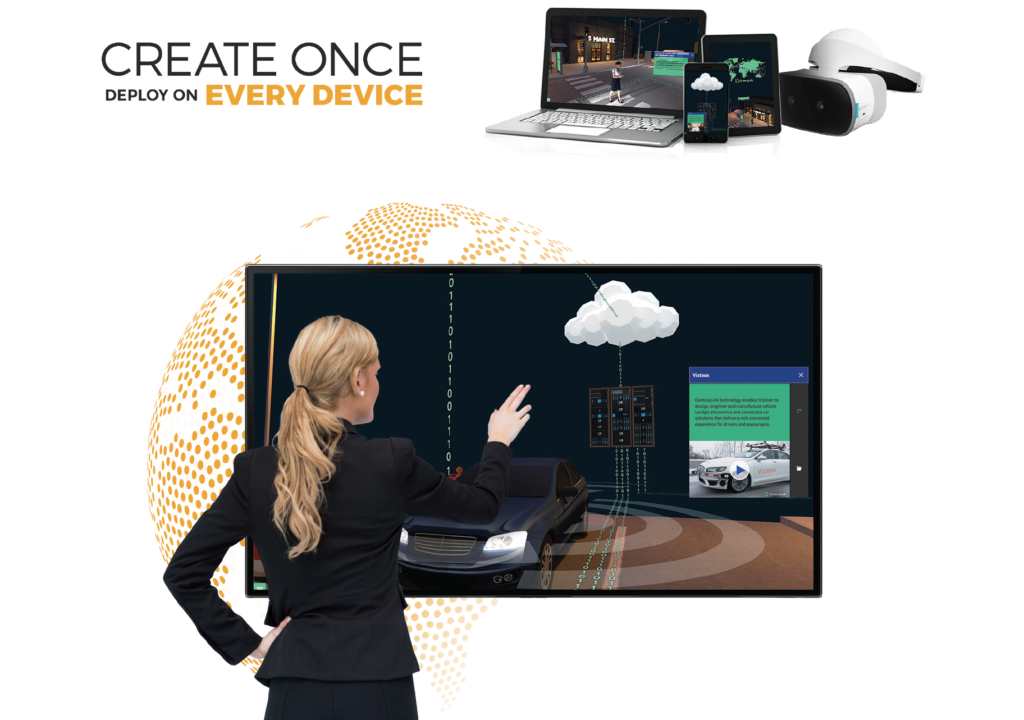 Extensible Platform
The value of creating and deploying this VR experience on Kaon's High Velocity Marketing Platform®, a SaaS-based solution, is that it allows Lumen to reuse existing content on mobile devices, tablets, touch screens, laptops, and websites.
"There is a huge cost and time efficiency in not having to recreate this interactive content from scratch for future sales and marketing programs and devices. We want to tell our story everywhere our buyers are, and Kaon's platform affords us the ability to do that. Not only did Kaon help us push the envelope, they gave us an innovative technology platform that allows us to break new ground and raise the bar."

— Lumen Director of Solutions Marketing Strategy Becky Kelly
Learn More
Find out how the Kaon platform helps marketers innovate while achieving measurable business growth.