case-study
Ricoh Saves $1.2M Per Year Using 3D Product Tours
The Challenge
Headquartered in Exton, PA, Ricoh USA, Inc. is part of the Tokyo-based Ricoh Company, Ltd. that delivers innovative technologies and services to empower digital workplaces. Its Commercial & Industrial Printing Business (CIP) offers a full portfolio of award-winning products to address the many needs of the commercial and industrial production print industry. Ricoh focuses on fostering genuine partnerships with its customers through exceptional standards of service. With its technology and services innovations, Ricoh customers are able to streamline processes and accelerate knowledge creation, which, in turn, generates significant benefits for their customers.
The company has a strong brand, product, message, and customer service ethos; however, they were seeking an innovative, efficient, and effective way to convey that strength to their customers and prospects virtually.
Ricoh's portfolio of production presses and platforms are high-powered, technological innovations that offer high levels of customization and complementing software services that can cost up to two million dollars at the highest end of its spectrum. For such a significant investment, potential customers, of course, desire a clear business justification and an in-depth examination of the products. Customers want to see them, watch how they work, and explore the features and benefits.
To deliver on these buying requirements, Ricoh would ship the presses to trade shows around the country and around the world, which would cost $150,000 per printer, per show (all-inclusive of shipping, setup and supplies). With between six and 10 shows in a typical year, the marketing team started asking themselves how long they were going to continue incurring these costs and started looking for alternatives that would offer their customers a similar experience without the physical equipment. How could they demonstrate their value proposition and solutions without having to ship physical equipment around?

Ricoh's Director of Inkjet Solutions, Mike Herold, was seeking a solution that would clearly illustrate and match Ricoh's constant quest for innovation and customer value. "I wanted to look beyond the technology and talk more about the value it can bring to our customers' customers and the organizational changes and enhancements it can bring to their business," Mike said. "How could we talk to our customers about building core competencies and making their companies more competitive based on the technology they're investing in?"
Mike began to research partners who could provide this solution and found Kaon Interactive, the leading provider of interactive, 3D marketing and sales applications for global B2B brands. He realized Kaon had capabilities far beyond just 3D product tours of Ricoh's products. He decided this was the right solution and the right partner to address both of their challenges. However, the application that would completely pivot how they market and sell their solutions started with a single 3D product tour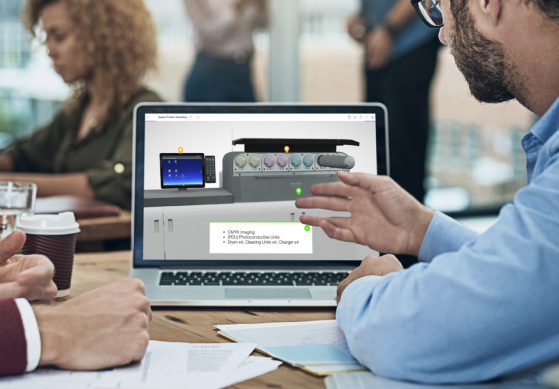 The Solution
CIP's interactive application began with just one 3D product tour: the RICOH Pro VC60000, their newest printer at the time. The difference was night and day for the global sales and marketing teams. Previously, sales reps were armed with collateral and the mission to drive potential customers to one of Ricoh's Customer Experience Centers in Colorado, England, or Asia to experience the equipment in person. Given the product price points, buyers would not purchase this equipment sight unseen; in fact, 95% of Ricoh's customers saw the equipment in person before buying.
Elevated Selling Tools
Having an interactive, photo-realistic, 3D-animated, virtual tour of the press suddenly made it possible to demonstrate the capabilities and show the value in sales meetings on the sales rep's tablet or laptop. Developed on the Kaon High Velocity Marketing Platform®, the Ricoh application was deployed instantly across the globe to whichever devices the sales reps were using; and it is available online or can be downloaded locally and used offline.
"The application helps the customer realize they want to see it in person," Mike noted. Thus, the application is the perfect complement in the sales process to get customers to the experience centers faster, and it is a more comprehensive collateral repository for marketing.
"To me, the application is just a virtual extension of our product," said Mike. "Of course, it doesn't take the place of visiting one of our Customer Experience Centers, but it's a good interim step in the sales cycle."
Kaon's platform provides extensibility and instant updates via the cloud to facilitate future development and expansion. Today, the Ricoh application has been expanded to include three more interactive product tours – one being the RICOH Pro VC70000, the newest addition to the portfolio – the brand story with a collateral library, and, recently, an interactive cost calculator to assist buyers in understanding and justifying the capabilities, cost, and value of whichever solution they are considering.
The sales teams are beginning to use the cost calculator, which generated a noticeable spike in weekly users and frequency of use. With the addition of new features, Ricoh is taking advantage of Kaon's User Adoption and Advocacy Program – included with every SaaS subscription – to help train their teams. Kaon's director of customer success holds regular meetings with the team to review performance and usage, guiding them through their application analytics and scheduling user trainings in both the United States and across Europe.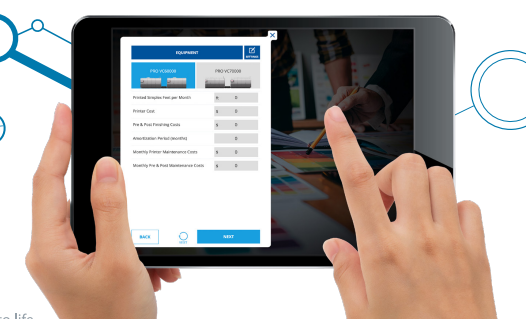 Enhanced Customer Experience
Sales isn't the only team in the organization to use and benefit from the application. Once buyers progress far enough through the sales cycle, they are visiting one of the Customer Experience Centers, in which Ricoh features their interactive application for briefings and customer education alongside the physical equipment. At events, attendees can interact with the application to view equipment that wasn't shipped to the show, as well as dig deeper into the printer in front of them, enhancing their learning and engagement. The 3D product tours animate the printers and virtually demonstrate their different functions, value, and accessories.
"At a recent trade show in Switzerland, we used the Kaon application on our interactive whiteboard, which was very popular, right next to the physical printer," Mike said. "That was powerful because it allowed us to drill down into the machine, seeing inside without taking it apart. And, we were able to talk about new technology that we wanted to demonstrate that will be included in our new product."
Mike continued, "When we introduced the RICOH Pro VC70000, it has a very unique, Ricoh-patented, paper-drying system that is difficult to see how it works when the machine is running, so the application contains an animation showing it at work. People at shows are really interested in seeing that."
With the application, Ricoh has the option to leave the equipment behind, or to use the interactive application alongside the equipment to increase customer engagement and allow customers to see what's going on inside the printers.
"As the market matures, we need to look at leveraging this type of tool to communicate value and technology differentiators. We're using Kaon to tell our value story better to educate customers and find new business opportunities. We needed to look beyond technology and talk about core competency."
– Mike Herold
Director of Inkjet Solutions, Ricoh
The ROI Advantage
Ricoh's to-date investment in their Kaon application has paid for itself in just one show to which they didn't have to ship products, solving the issue that set them on this digital transformation path in the first place. Although, many more unknown needs have been met by this application
that have positioned Ricoh as a force to be reckoned with in the commercial print production industry.
Unlocking Additional Use Cases
Ricoh originally developed the application with a login-gate for their employees' use only; any external individuals using the application would be doing so with either a Ricoh sales rep or Ricoh booth staff at shows.
"The application was shown to a Ricoh customer in Germany who asked if he could use the application to show his customer the technology and how it works," Mike said. "They were using it for a sales effort like we are, similar to what our sales reps do."
Ricoh found added value in their application for use by their customers to show the features of the technology they were purchasing and how it made them better than other print production houses.
Since then, Ricoh has selectively shared the application with several customers, so those customers can enhance their value proposition for their potential customers down the chain. Ricoh also provides the application as an educational resource to new customers when they purchase equipment to help them with installation and understanding all of the product features. Thus, the application has become a ready-made, bottom-of-funnel sales tool for the Ricoh marketing team.
Now, the Ricoh team is talking about how to best leverage this investment to enhance their overall digital marketing efforts. At the beginning, the team took a confidential approach to the application, tightly controlling the content and where it was used, but that mindset changed 180-degrees after customers started requesting access and seeing value in it.
"We have good content there, and we want to make sure more people are exposed to it," Mike said, talking about adding some of the assets to different sections of the Ricoh website, as well as using it to give consistency to their marketing materials.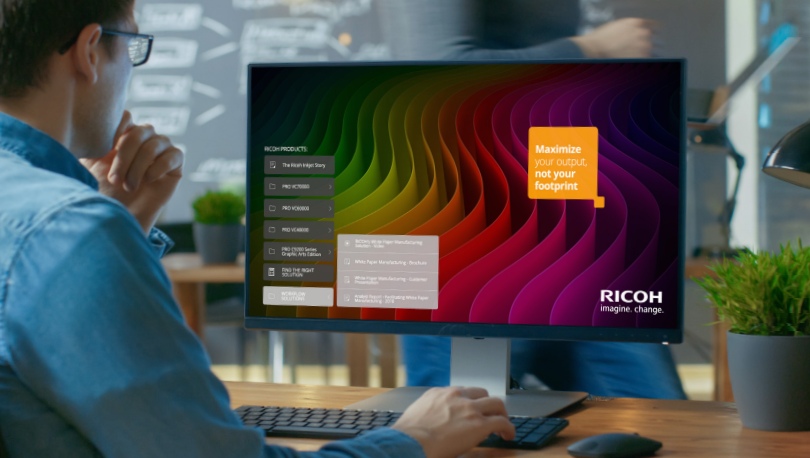 Scalability and Evolution
The next phases of the application's development will include building out a more comprehensive story about Ricoh to evolve it into a "one-stop marketing shop".
"The goal is to have everything our teams need in the application to talk about the equipment from a sales and marketing perspective," said Mike. "The cost justification tool, which has been built into the application, is the first step towards that."
He continued, "The application is very product-focused right now, but we're looking to move into more of the overall Ricoh value story, how we can help customers holistically with our solutions. We want to add in our marketing verticals and how Ricoh provides value within those verticals."
Adoption of the application has been a big change for the marketing and sales teams but, overall, a positive one. Expanding and updating the application will increase its usefulness and relevancy, although Ricoh is already seeing high global utilization. And, they are finding this was what was missing all along from their marketing and sales toolbox.
"It has been a big change for our sales team and the way they sell; it wasn't driven through technology. Some are grafting onto it, giving them a competitive advantage," Mike said. "It's a new way to communicate our offerings as our buyers are changing. They are more educated and doing more research prior to purchase, so we needed more sophisticated tools and content to align with our more sophisticated and educated buyer."

This application was recognized by the Academy of Interactive and Visual Arts (AIVA) with a 2020 Communicator Award of Excellence for Integrated B2B Campaign.
Learn More
Find out how the Kaon platform helps marketers innovate while achieving measurable business growth.