blog
Missed Opportunities at AABB 2022
Estimated Reading Time: 3 minutes
Our thoughts are with the residents of the communities impacted by Hurricane Ian.
The cancellation of the AABB 2022 Annual Meeting, due to extremely unfortunate circumstances, sent exhibitors, sponsors, and attendees scrambling. After two years of virtual trade shows and events due to the global pandemic, we are getting back to traveling for in-person, face-to-actual-face events finally.
Now, this.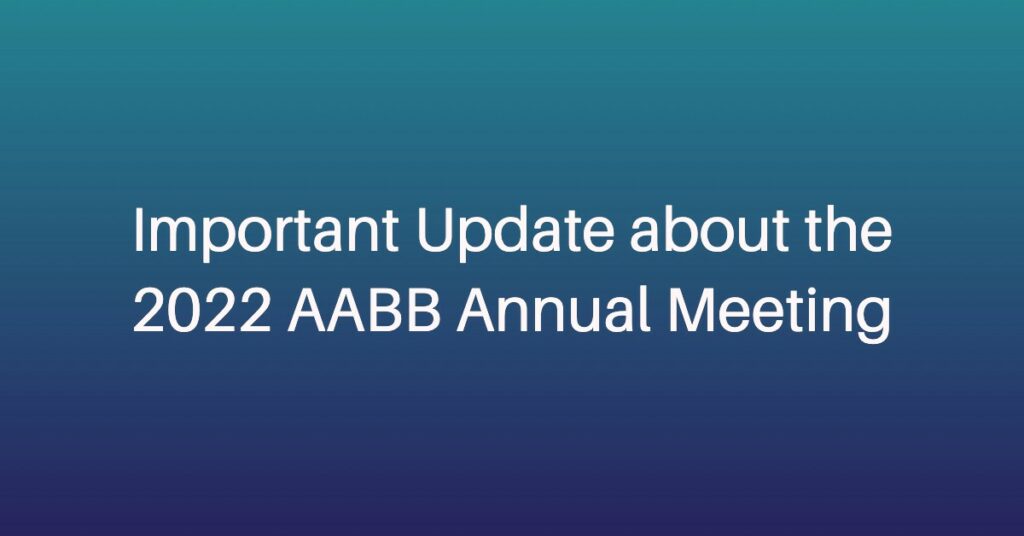 If we have learned anything from the past two years, it's that we hope for the best and plan for the worst, which means always having a business continuity plan (in this case, an event continuity plan) in place.
Virtual Product Demos – It's Past Time for A Contingency Plan
Did you know that the number one reason people go to trade shows is to discover new products?
Both attendees and exhibitors rely on trade shows to communicate about products and solutions within their industry to stay current on trends and solve business challenges.
So, what happens when the trade show is canceled, or the event is forced to happen virtually?
While we are all eager to return, the truth is the occurrence of these industry events still is in flux – whether due to public health, environmental, political, or economic factors. This is creating missed opportunities for product demonstrations, education, and networking to build relationships (the top three reasons why people attend trade shows). Virtual meetings and events can stand in, but we now know from experience that the quality of networking cannot compare.
However, virtual product demonstrations and solution education often are more inclusive and effective than their physical counterparts.
With digital interactive solution storytelling and 3D Product Tours, would-be trade show attendees can experience product and solution demonstrations anywhere, at any time. This includes inside physical trade show booths to complement the physical products on display and provide information and demonstrations of an entire solution portfolio – without bringing every product in the catalog to the show.
These digital interactive experiences enhance the customer experience by enabling:
Self-discovery, which is proven to increase engagement and knowledge retention;
Exploration of products outside and inside, which is something trade show attendees cannot get on the show floor;
Guided animations to see how products work and take the product apart to highlight features of value; and
Consistent value messaging to differentiate from the competition.
When these photo-realistic, to-scale interactive product demonstrations are combined into a value-based solution storytelling experience with TCO calculators, product configurators, catalogs, and laboratory design tools, the effect is powerful. These applications give both sales and marketing access to all the tools in the toolbox in any customer-facing scenario, from trade shows to briefing centers to sales meetings.
3D Product Tours are A Revenue-Generating Sales Tool
Interactive, customer-driven engagement is no longer a nice-to-have. These experiences are a must-have to connect with the buyers of today who want to uncover solutions on their own before speaking with a sales representative and to mitigate uncontrollable exposure to risk.
Even when events do take place, we have seen supply chain or manufacturing disruptions delay the delivery of new products. The absence of these physical products for launch events and demonstrations would mean delayed or lost revenue opportunities if not for the innovative foresight to create digital product tours. Waters found itself in this very situation when a new product was not ready in time for the launch.
Customer-driven product experiences provide education and demonstrate differentiated value in a competitive market in a way physical product demonstrations struggle to. Natus found that digital demonstrations were so effective that they continued using them even when it was possible to show the physical product. And, they sold these products without customers ever seeing them in person.
Let's stop letting external factors get in the way of demonstrating solutions to customers. Explore how others are seeing success with digital interactive applications.
Get your copy →
Smart marketing leaders know digital transformation is an ongoing process vital to surviving recessions. Learn how they're using technology to meet evolving buyer demands.