news
How Kaon Interactive Became the Leader in Enterprise Sales and Marketing Apps
Kaon Interactive President and CEO Gavin Finn recently met with Editor and Contributor Colin Barry from VentureFizz, a digital platform for technology, entrepreneurship, and career inspiration in Boston, Mass. Colin was interested in how Kaon is using augmented reality (AR) and virtual reality (VR) for the enterprise. Gavin presented a VR demonstration using Google Daydream and an AR demonstration of Kaon's 3D product models, as well as Kaon's story of how we started and how we got into this business of creating engaging, interactive stories around our customers' products. Colin was impressed.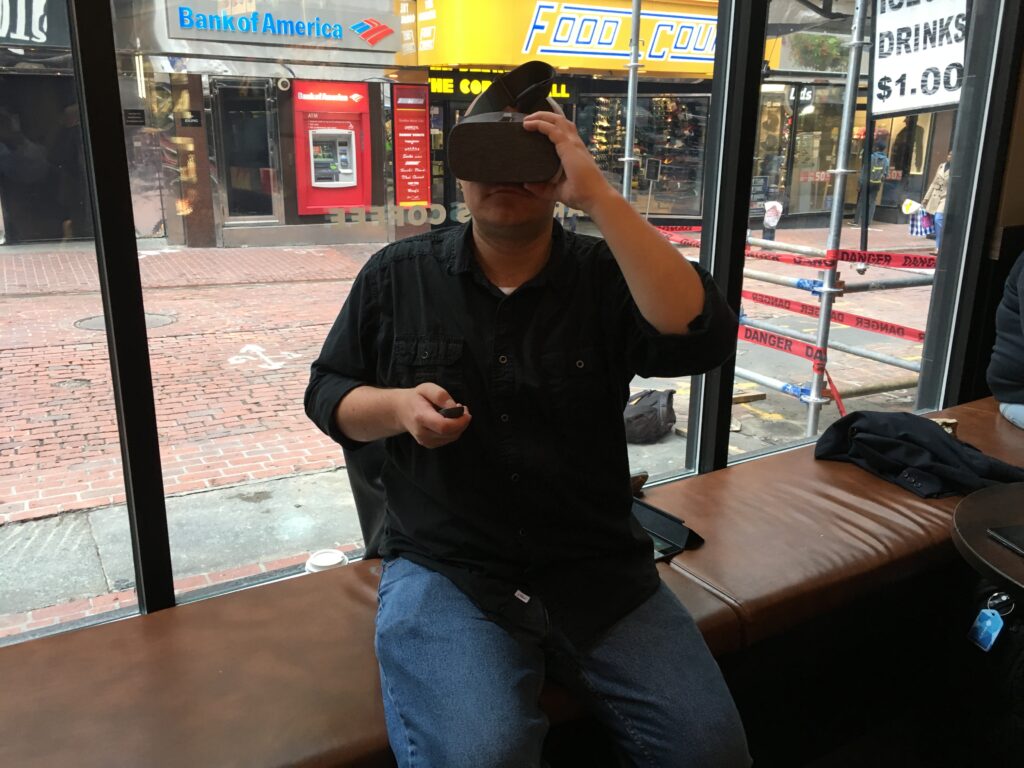 What resulted is the following story by Colin Barry.
Kaon Interactive – Creating Engaging Customer Experiences With AR and VR
August 14, 2017
Out in the small Massachusetts suburb of Maynard, there is an over 20-year-old company developing 3D product models and interactive storytelling applications for augmented reality (AR) and virtual reality (VR) B2B experiences. They have been utilizing this technology for the past few years, and have helped major companies showcase their products in an interactive manner.
The company's name is Kaon Interactive, and their history, as well as their technology, are truly are one-of-a-kind.
Founded in 1996, Kaon Interactive started out as an offshoot of one of the Boston's premier early tech companies: defense contractor BBN Technologies. In the early 1990s, BBN created a 3D battlefield simulator.
When Kaon Interactive was founded, the team wanted to use similar technology for a different purpose. Initially, Kaon Interactive's first foray was through the world of video games. Around the mid-to-late-90s, massively multiplayer online role-playing games (MMORPGs) were slowly gaining traction with PC gamers. Kaon's game, Terra: Out of the Badlands, was one of the first MMORPGs on the market. The game proved to be a success not only due to its gameplay, but also because it was free-to-play.
However, the abundance of players not being charged a monthly subscription started to create some headaches with investors. "The investors wanted to figure out how to make money off this game," says Kaon Interactive's current CEO and President, Gavin Finn. "They began charging 10 dollars a month. Turns out, once the game started charging players, no one wanted to play."
After Terra, Kaon Interactive slowly started to shift their efforts into a completely different market: eCommerce. The company wanted to bring interactive technology to the customer experience.
"This was in the early days of eCommerce," Finn says. "Back in those days, it required a lot of manual labor. It was difficult because companies were spending a lot of money on creating these experiences."
The company started going through several different business models around this time with mixed results.
In 2005, Finn joined the company as its CEO and President. Finn has an extensive marketing background, having worked with several early Internet companies. His goal was to find value in the interactive experiences Kaon Interactive was developing.
After going through two business phases, Kaon Interactive is now utilizing their own proprietary platform to develop interactive AR/VR mobile sales and marketing applications that transform the customer experience.
These applications are data-driven and constantly updating without the use of human interaction. Currently, Kaon Interactive's AR/VR applications are compatible with Android and will be working on Apple devices come to the iOS11 launch (scheduled for September).
For many of their clients, which include Cisco, Johnson & Johnson and other B2B companies, they can use the technology as a catalog. Cisco, for example, can use AR to showcase their products as a mobile application for smartphones and tablets. As a customer, or a potential customer, explores the virtual catalog, they can view a 3D model of a data storage tower or networking tower. From there, touching on a certain part of the networking tower allows the user to take a closer look at how that particular piece functions.
While the Kaon VR Station uses the more ubiquitous Oculus Rift, Kaon Interactive's VR technology differentiates itself with their ability to showcase their VR through Google Daydream as well. The VR experience is friendly on the eyes and the software contains the same content as the catalog, and it allows for a personalized approach.
What makes the experience unique are the user-friendly interface and overall accessibility. Kaon Interactive carries an experienced team of interactive UX design specialists. "More than half of our team members have extensive experience developing interactive user experiences," the CEO says. "Customers are stunned seeing their applications."
VR and AR are popular buzzwords in the tech world. While many companies are using the technology for entertainment, others are finding ways to help businesses. Kaon Interactive is on the latter side, creating the right experience for B2B customers.