blog
Differentiating SDI's Go-to-Market Strategy with Digital Customer Engagement
Estimated Reading Time: 5 minutes

In a fast-paced world where traditional sales and marketing approaches often fall short, companies face the challenge of effectively communicating their unique value proposition and standing out from the competition. The buying journey has evolved, with buyers spending a mere 17% of their time with potential vendors. In this fiercely competitive landscape, engaging customers at every touchpoint has become a crucial business differentiator.
Recognizing the need for a transformative approach, SDI, a pioneer in the digital supply chain solutions industry, embarked on a mission to bring digital transformation to the buyer's journey. They understood that to revolutionize their sales process and go-to-market experience, they needed a game-changer. That's when they partnered with Kaon Interactive, a renowned technology company known for its cutting-edge interactive, digital storytelling applications that use the science of education and engagement to convey intricate value stories.
Explaining the Unintuitive
SDI had a unique challenge—they needed to clarify their value proposition and differentiate themselves from their competitors. Their leading-edge digital supply chain model, though effective, often left potential customers confused about what SDI truly offered. Describing who they were and what they did, while clarifying who they weren't and what they did not do, became a constant challenge. The key lay in explaining their unique digital approach to largely unaddressed MRO and tail-spend supply chain solutions.
During an event, Debra Yorkman, vice president of marketing at SDI, had a pivotal encounter with Gavin Finn, the CEO of Kaon Interactive. Debra was asked for a brief pitch about SDI's value proposition. Gavin's profound observation left a lasting impact.
"He said, 'You're trying to sell a digital solution with an analog approach and tell your customers that you're different.' And that stuck with me. So, one of the things we like about Kaon is that people realize that this is different, and that's symbolic, but it's true."
Gavin's words emphasized the need for a transformative approach that would capture attention and engagement.
Elevating Customer Engagement with Personalized Digital Storytelling
In a joint sales-and-marketing effort, SDI collaborated with Kaon Interactive to develop the ZEUS Supply Chain Journey—an interactive digital application that would embody their uniqueness and engage customers in an entirely new way.
The ZEUS Supply Chain Journey application provides a captivating 3D experience, allowing customers to explore the intricate connections between operational challenges and broader supply chain problems. SDI knew that customers wanted to feel understood in their specific pain points, so the application catered to this need by representing their unique value to multiple industries. Customers could now discover for themselves how SDI's solutions addressed their individual challenges, fostering an emotional connection and deeper understanding.
Before the interactive ZEUS Supply Chain Journey application, SDI sellers relied heavily on Microsoft PowerPoint® slides to convey their message. However, this approach lacked the impact and engagement they desired. Thanks to Kaon's digital storytelling capabilities, SDI marketers and sellers now use interactive and visually stunning experiences that increase customer engagement, knowledge retention, and personalization. The shift allowed them to simplify complex concepts and connect with customers on a deeper level, becoming a catalyst for guiding customers through their problem-solving journey and effectively articulating their value proposition.
The ZEUS Supply Chain Journey application made its debut at several trade shows, where it instantly captured the attention of attendees. Its inventive and visually immersive supply chain landscape sparked curiosity and drew people into SDI's booth, even those who initially had no interest in supply chain solutions. Buoyed by this success, SDI is setting its sights on expanding the application's reach as the core of its go-to-market approach.
Shifting the Go-to-Market Experience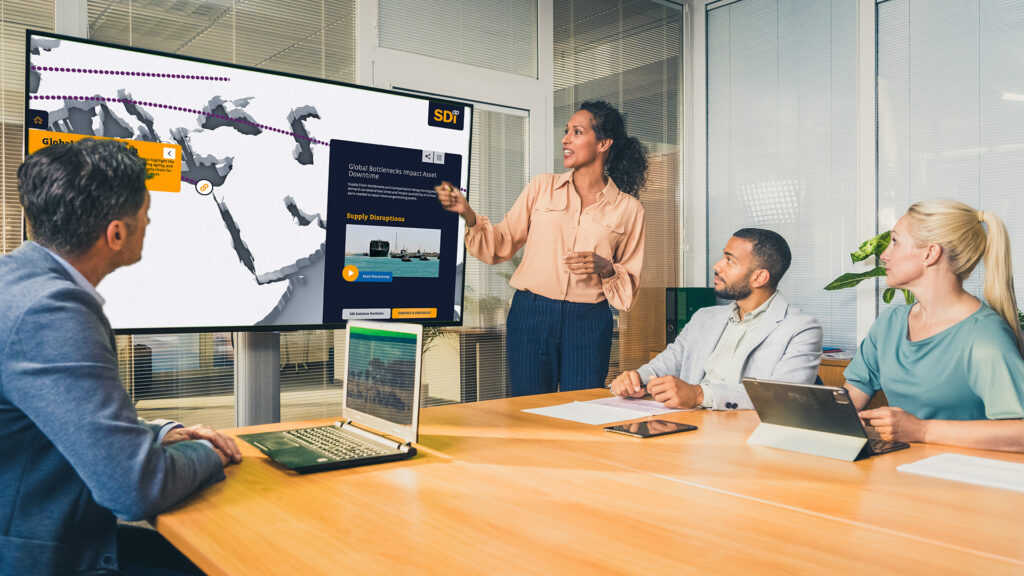 SDI's sales leadership eagerly adopted the ZEUS Supply Chain Journey application, recognizing its potential to enhance customer engagement and comprehension. As they integrate it into their sales process, they observe its impact on customer understanding and learning. Feedback from customers has been overwhelmingly positive, indicating that the application helps them identify their challenges, understand the root causes, and comprehend SDI's solutions and differentiated value more clearly.
By leveraging the application's features, SDI's revenue team has been able to work together to better understand customer needs and preferences, resulting in higher levels of engagement and satisfaction. Additionally, the application can serve as a valuable tool for HR and sales enablement, aiding recruitment, onboarding, and training processes.
SDI's evolution with the ZEUS Supply Chain Journey application exemplifies its commitment to digital transformation, starting from the first customer touchpoint. It underscores the crucial role of engagement and learning in the buying journey. By embracing digital technology and disrupting the marketing and sales status quo in the supply chain industry, SDI differentiates itself and communicates its value proposition more meaningfully.
Connecting Buyers to a Multifaceted Story Everywhere
As SDI continues to evolve, they understand the importance of adapting to changing customer preferences and market dynamics. They recognize that the buying journey is no longer confined to traditional sales interactions but extends to digital platforms and self-discovery. SDI plans to leverage the application across various touchpoints in the customer journey, ensuring that customers can engage with their value proposition regardless of the format or platform.
Moreover, the ZEUS Supply Chain Journey application opens doors for collaboration with strategic partners. By sharing this interactive experience with partners, SDI can align its value proposition across the channel ecosystem, further driving the adoption of its solutions. This collaborative approach enables SDI to expand its customer base and create new growth opportunities.
By taking a customer-centric approach, SDI effectively communicates its complex value story and differentiates itself, meeting its customers where they are. As the business landscape changes, SDI remains committed to finding new ways to engage customers, deliver value, and stay ahead of the competition. Through the collaboration of marketing and sales, SDI has elevated customer engagement and transformed the buyer's journey, setting a new standard in the supply chain solutions industry.
Get your copy →
Smart marketing leaders know digital transformation is an ongoing process vital to surviving recessions. Learn how they're using technology to meet evolving buyer demands.