Kaon Interactive Adds 11 Major Accounts to its Enterprise Client Roster
Kaon Interactive, the leading provider of 3D marketing and sales applications for global B2B brands, is poised for significant global user growth in 2018 with the recent addition of 11 major new clients. Kaon's transformative applications allow B2B companies to more effectively communicate a product or service's differentiated value to prospects through interactive experiences across the buyers' journey. These solutions, in turn, help to drive increased sales and reduced marketing costs.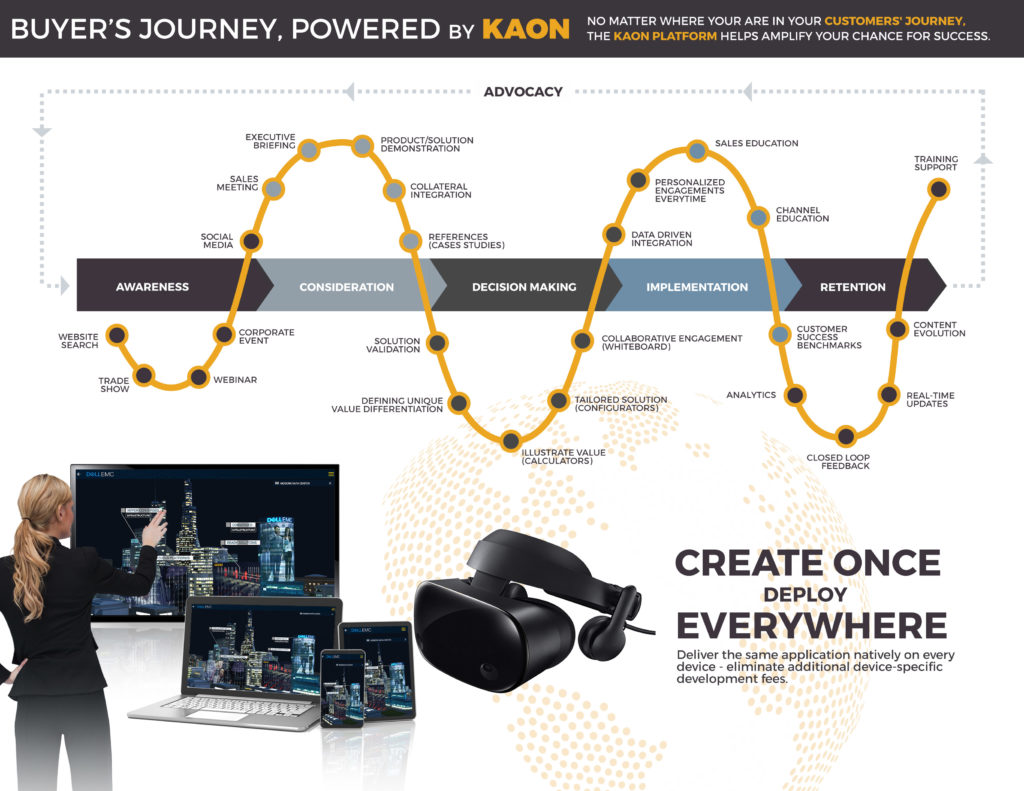 The most recent additions to Kaon's client roster join a pre-eminent list of visionary Fortune 500 clients such as Cisco Systems, Dell EMC, Thermo Fisher Scientific, and GE. Each of these companies has asked Kaon to create, deploy and maintain a diverse range of advanced digital solutions that will include virtual 3D product tours, interactive storytelling, and AR/VR applications. These innovative companies include:
Lenovo – manufactures enterprise PCs, tablet computers, smartphones, workstations, servers, electronic storage devices, IT management software, and smart televisions
Siemens Building Technology – provides automation technologies and services for commercial, industrial, and public buildings and infrastructures
Ricoh – multi-national imaging and electronics company
Bruker – manufacturer of scientific instruments for molecular and materials research, as well as for industrial and applied analysis
Akamai – content delivery network and cloud services provider
Georgia Pacific – one of the world's leading makers of tissue, pulp, paper, packaging, building products and related chemicals
Mellanox – leading supplier of end-to-end InfiniBand and Ethernet interconnect solutions and services for servers and storage
Hexagon Positioning Intelligence – providing accurate positioning and correction solutions worldwide for land, air or sea
Year-over-year, Kaon Interactive has seen a double-digit percent increase in sales, a 122 percent increase in average weekly users of its interactive applications, and a 37 percent increase in the number of 3D virtual product model interactions per week.
"Ever since we have expanded our platform to include Augmented Reality and Virtual Reality, we have seen accelerated adoption of our technologies by global B2B companies," said Gavin Finn, CEO & President of Kaon Interactive. "The value of Kaon's investment in technology and creative UX design has been significant for these companies. We are pleased to be working alongside the biggest names in the telecommunications, industrial, and life science industries to help them effectively communicate their unique value differentiation to customers and prospects, positively affecting their bottom lines."
Kaon Interactive's applications are uniquely beneficial because they are created once and can be deployed everywhere. Currently available on devices running iOS, Android, MacOS, and Windows, Kaon Interactive's solutions are used by sales teams and marketers in nearly 40 countries.
For more information, or to contact us about adding interactive content to your marketing mix, visit www.kaon.com.