3D Augmented Reality Scenes
The Next Frontier of AR for the Enterprise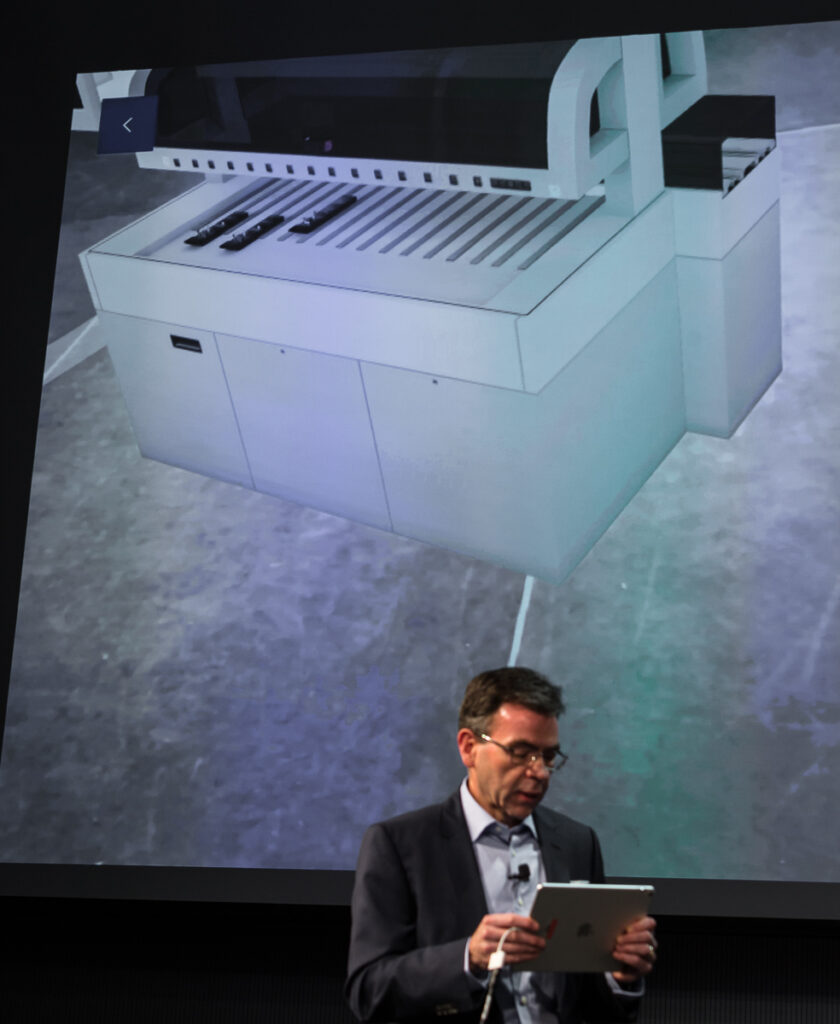 Kaon Interactive, the leading provider of 3D marketing and sales applications for global B2B brands, today announced that they are continuing to innovate new technologies and applications for AR (augmented reality) in the enterprise, with their release of 3D AR Scenes.
"3D scenes in augmented reality have been limited to gamification," said Joshua Smith, CTO and Founder of Kaon Interactive. "We're taking this concept to the enterprise in a way that breaks through the clutter."
Over the last year, Kaon has elevated the AR business use case from placing photo-realistic, interactive 3D Product Models 'at scale' within a real physical space, to now placing interactive 3D scenes (laboratory, data center, office, manufacturing plant, etc.) within a real physical space, in augmented reality.
Interacting with 3D scenes in augmented reality are more compelling engagements for customers and prospects because they can take it off their 'screen' and put it into their actual environment. B2B companies have struggled with how to make buying engagements more memorable and compelling. Now, Kaon's 3D AR Scenes give customers the ability to walk around their environment, envision how a solution works to solve their business or technical challenges, and amplify the customers' receptiveness to their differentiated value proposition.
View a quick Kaon 3D AR Scenes video.
With the release of iOS 11 and the launch of Apple's ARkit (and soon Google's ARCore), Kaon Interactive is driving AR adoption in the B2B space, with 50+ live enterprise AR applications in use, by hundreds of thousands of customers, sales teams and channel partners globally.
Kaon Interactive has a 20-year head start on other AR providers, because of its continuous technology innovation in 3D interactive experiences, and its extensive B2B global customer base (such as Cisco, IBM, GE, Siemens, HPE, Abbott, and BD) that has been using Kaon's digital platform for years. This global platform is used to create and deploy photo-realistic, 3D interactive digital product models and solution storytelling applications to sales teams, marketers, and customers in more than 100 countries.
Watch Kaon President & CEO Gavin Finn debut Kaon 3D AR Scenes on stage at the most recent AR in Action Industry Summit at MIT.
"The effectiveness of marketing and sales experiences is dramatically increased when customers can see your products and solutions appear in their actual physical space and can then contextualize the benefits of that solution because they have that clear mental image of how that product fits and works," said Gavin Finn, President & CEO of Kaon Interactive. "It truly creates an emotional connection with prospects that transcends traditional sales and marketing relationships."
Learn more about Kaon's 3D AR Scenes.