news
Prediction: Successful Marketers Treat Sales as Clients and Partners
Interview with Joshua Smith, CTO and Founder, Kaon Interactive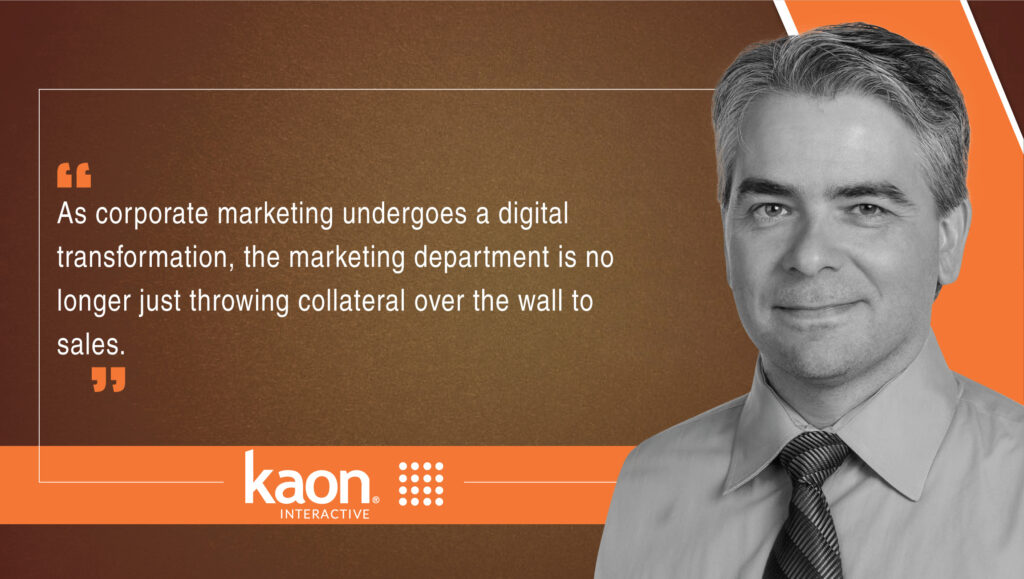 Tell us about how dramatically your role evolved in 2018 with marketing and sales technologies.
At Kaon, 2018 was all about efficiency and process. We are experiencing huge growth in our top line, as the combination of our own sales effectiveness, and industry awareness of our company, in general, has led to a dramatic increase in the breadth and depth of our customer engagements. The challenge for us, as a software company, is to have as much of that top-line growth reach the bottom line as possible. For us, that meant transitioning the last of our internal data center operations to the cloud and having a renewed focus on improving our internal tools for increased efficiency.
What challenges and opportunities did you identify at Kaon Interactive? To what extent did you manage to analyze the success?
Although the platforms on which we deploy and the technologies we use to create engaging customer experiences are constantly changing, a big part of our business is essentially unchanged in the last 20 years: making real-time, photo-realistic, 3D models of our customers' products. When you do the same thing for 20 years, your tools tend to get long in the tooth. It's a challenge to upgrade and modernize those tools because you are essentially replacing the engine of your car while you're traveling at highway speed.
The opportunity that engenders is to drop features that are no longer relevant to the business and find ways to make new tools that eliminate waste and inefficiency in the process. So, while it's hard to do, the payoff in reduced labor expense and faster time-to-market can be huge — particularly because everything Kaon does, we do at scale.
What's the biggest misconception in interactive content marketing technology today? Would you like to clear the air around this confusion?
The biggest misconception is that "interactive" is optional. Many marketers think that they are choosing between spending their budget on traditional collateral (video, PDF, PowerPoint) or spending it on interactive applications.
News flash: Nobody watches those videos, and nobody reads those PDFs, and nobody wants to see another PowerPoint.
Most of our apps include both interactive content and traditional collateral.
In one, interactive content was viewed 72,000 times in 2018, while PDFs were viewed less than 500 times, and videos were viewed less than 200. Spending on traditional marketing collateral is throwing your money away. Your sales teams and your customers and prospects will only engage with you if your marketing materials if they are compelling, engaging, and interactive.
Which trends in 3D interactive sales and marketing do you foresee in 2019?
I'm excited to see how our customers integrate Augmented Reality (AR) and Virtual Reality (VR) into their sales process. Over the past two years, we've added these new technologies as features of our platform, and we are now one of the leading providers of B2B AR and VR apps, with more than 100 AR- and/or VR-enabled apps in app stores across all platforms. However, we are seeing very little utilization of these features.
We believe that is because enterprise sales teams haven't yet figured out how to use these tools effectively. The use cases (such as showing a new blood analyzer in your prospect's lab in AR, or getting a customer's full attention in a VR experience at a trade show) are compelling. I'm hoping that 2019 will be the year we see sales teams start to leverage these new capabilities.
To what extent could technologies like AI/machine learning, geo-location and blockchain data impact the business you are operating in?
None of those technologies are particularly relevant to what we do. For us, the leading-edge technologies that get our attention are in the mixed reality space. New AR and VR hardware platforms, haptics, WebXR, and technology for collaborative AR experiences are the technologies we are excited about
What's one piece of advice you would give to mobile marketing and advertising teams?
Marketing departments should treat sales teams as their customers.
As corporate marketing undergoes a digital transformation, the marketing department is no longer just throwing collateral (PDFs, PowerPoints, videos) over the wall to sales. Instead, marketers need to create interactive experiences for sales to share with customers and prospects. Those experiences are apps. And you cannot make great apps without talking to your users.
The marketing teams need to train salespeople on how to use these interactive tools. They need to get feedback from users. They need to constantly improve the tools to maximize the business impact. A digitally transformed marketing department is indistinguishable from a software publisher. And no software company will succeed if it ignore its users.
How should marketers be thinking about mobile in the context of omnichannel campaigns? How could they benefit from your product suite?
Every channel is mobile. The web is primarily consumed on mobile. Apps are mobile. Even PC applications need to be designed for touch, which means they have to be designed with a mobile UX. Our SaaS platform is focused on creating compelling applications that can be fielded on all platforms instantly and simultaneously. And we provide the tools global companies need for translation, analytics, and constant content updates to keep the tools relevant.
How can marketers move towards becoming mobile-first in 2019?
Marketers should have become mobile-first five years ago! I would be shocked if there are marketers who are still thinking of the web as their primary channel and mobile as an afterthought. We certainly don't see that in our customer base. Everything is developed for mobile, and we are usually the ones reminding our customers that the web and desktop are still important parts of their user experience. Of course, getting mobile experiences to run on the web and desktop is a far easier task than porting desktop experiences to mobile (which is almost impossible).
How do you prepare for an AI-centric world as a martech executive?
AI is a tool, like any other tool in the martech toolbox. The questions to ask are how can I effectively use this tool to improve the performance of my campaigns? That might mean smarter ad targeting, a better understanding of analytics, or even smarter bidding on ad campaigns. The AI that is trending right now (deep learning) is predicated on the use of huge data sets. So, to really take advantage of this technology, marketers should be looking for ways to get more data, so they have something to analyze.
This article originally was published by MarTech Series, "Prediction Series 2019: Interview with Joshua Smith, CTO and Founder, Kaon Interactive" (February 11, 2019).