case-study
Rockwell Automation Uses Immersive Digital Experience to Pivot Automation Fair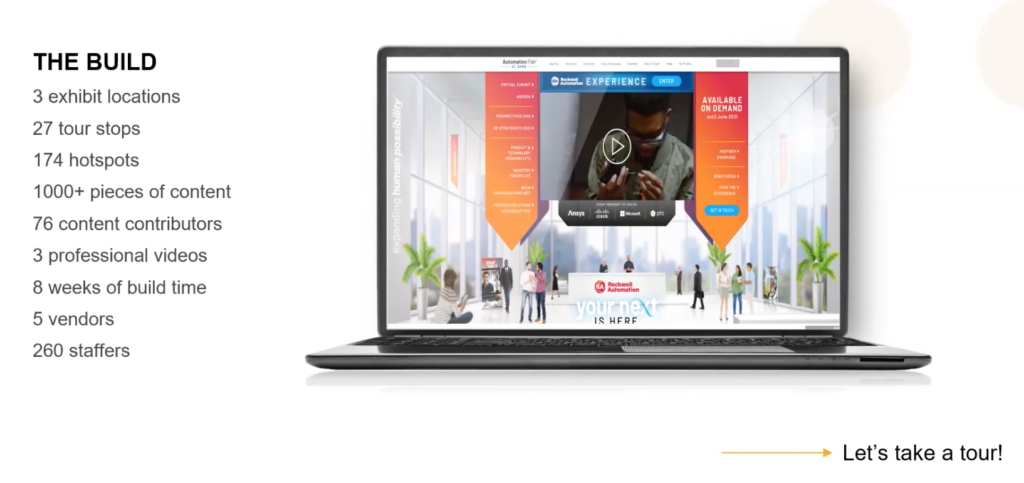 Over 100 years ago, inventive Lynde Bradley joined entrepreneurial Dr. Stanton Allen and mechanical genius Harry Bradley to establish the first motor control company with an initial investment of $1,000 and a prototype. Today, it has become the largest company in the world dedicated to industrial automation and information, with annual revenue of $6.7 billion. Rockwell Automation takes the knowledge it has gained over the last century to connect the imaginations of people with the potential of technology to expand what's possible, making the world more productive and sustainable. Headquartered in Milwaukee, Rockwell employs 23,000 problem-solvers dedicated to customers in 100+ countries.
Reimaging the Virtual Tradeshow: How to Create Immersive Digital Experiences
It was in the spirit of this long history of innovation that Rockwell reimagined its renowned annual Automation Fair last year in the wake of a global pandemic. The customer event went virtual. As so many have learned, there are challenges in pivoting from a traditional in-person event to an all-virtual event — logistics, content, attendee engagement, and success measurement.
Over the past year, attendance at virtual events had been high, but attendee engagement and satisfaction are low. But, if marketers rethink virtual events, they offer opportunities for those brave enough to go beyond digitizing a physical booth to create imaginative, immersive experiences that generate educated and enthusiastic (and global) prospects. "Rockwell Automation at Home" is a prime example. It's an interactive application, created by Kaon Interactive, that transforms the virtual event from passive viewing to active engagement at every touchpoint, immersing the anticipated 12,000 users from 75 countries into a photo-realistic tour of the Rockwell Milwaukee headquarters.
The immersive digital experience hosted thousands of global user sessions during the three-day event. Attendees "walk" through the spaces (three replicas of full floors within the physical headquarters), explore interactive displays to learn about Rockwell solutions and talk to subject-matter experts via live video conferencing. It's the same experience as being on the tradeshow floor without leaving your home.
Setting Attainable Objectives for Your Virtual Experience
The Rockwell team had three goals in transitioning their in-person event to a virtual one:
Give customers, partners, and distant employees a chance to tour the updated headquarters and learn about the latest company innovations.
Drive conversations and leads at their most important annual event for engaging customers.
Create a digital interactive experience that can be used for years, for events (virtual or in-person), marketing campaigns, and a virtual briefing center.
To achieve these goals, Rockwell required not just a highly engaging virtual experience, but a full-scale, agile platform on which to deliver it. They turned to the Kaon Interactive High Velocity Marketing Platform to overcome their challenge. The platform provided Rockwell with a holistic experience that is device-agnostic, available online or offline, easily updated via the cloud, measurable (with real-time engagement metrics), and accessible to unlimited users. As a leader in building and deploying interactive B2B sales and marketing applications, Kaon is an expert in creating and deploying engaging and business-relevant customer applications to drive and elevate buying conversations.
Finding Meaningful Engagement in Digital Experiences
The Rockwell Automation at Home event and digital experience exceeded expectations, providing a lifelike event for Rockwell's customers, partners, and employees, with 24,833 attendees across 107 countries — netting out to more than 2,000 hours of actual hands-on engagement across hundreds of thousands of interactions. In terms of measurable engagement, 33% of those attendees actively interacted with the event and content for more than three minutes.
The purpose of any brand event is to drive conversion and move leads through the sales cycle. The Rockwell Automation Fair at Home resulted in more than $50 million in opportunities, with just over $3 million closed so far.
And counting. The advantage of this virtual immersive experience is the event doesn't have to end in three or four days. Marketing and sales can direct customers and partners to the application post-event, while it is simultaneously being explored by organic website visitors. In the three weeks after the event, the digital experience attracted more than 1,100 user sessions in 64 countries, with a 44% capture rate (sessions with engagement of three minutes or more). The capture rate is a vital metric as it measures highly engaged users as they interact with the application and, independently, move further down the buying funnel, indicating intent. Rockwell was able to curate 11 customer-guided virtual tours, three analyst tours, and more – all virtually.
Contact Us
Want to know how Kaon Interactive can help you plan for and achieve attendee engagement and knowledge retention at your next virtual, hybrid, or in-person event?