case-study
Malvern Turns Lost Sales Into $150,000 in Annual Savings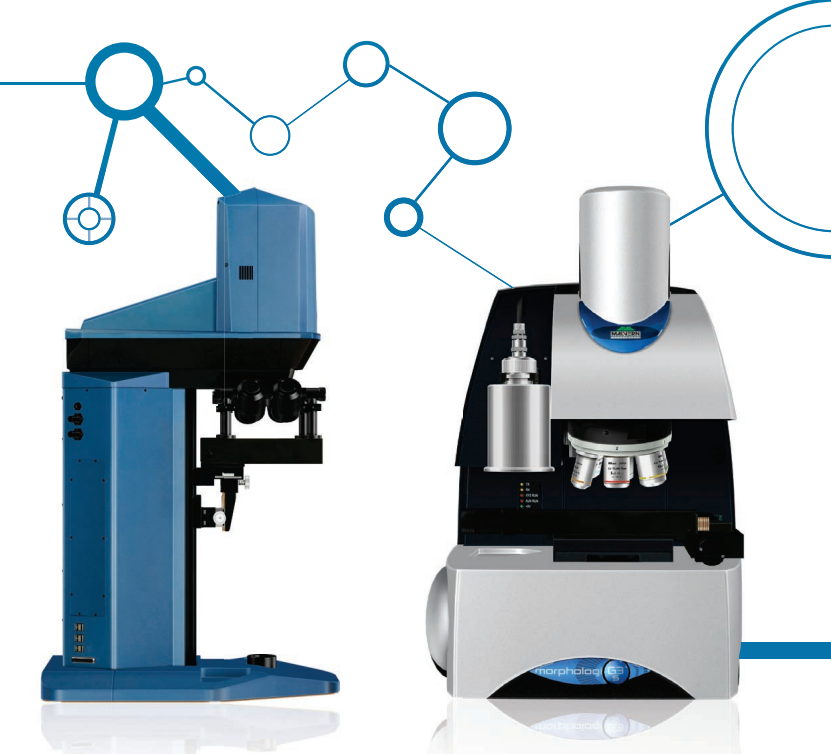 The Challenge
Malvern Instruments, Ltd. is a fast-growing, global, analytical instruments company, focused on instruments used for characterizing the physical properties of materials. Malvern provides a range of particle analysis, rheological and chemical imaging instrumentation that deliver measurements reflecting the complexities of diverse materials. Traditionally known as a leading provider of particle characterization instruments, Malvern Instruments has branched out to offer a number of complementary technologies. In a matter of a few years, Malvern went from selling two core products to selling seven. With rapid product growth over a short period of time, Malvern Instruments was looking to raise awareness of their new products and needed a marketing tool that would help them cross-sell their product lines at events where space is always limited.
With a fast-growing portfolio of products, Malvern was challenged with finding new, consistent and interesting ways of making the market aware that the company had a much larger portfolio of products. Beyond just awareness, the company also needed to develop tools to sell these newer products to their existing customer base. While the sales venues and channels remained the same, the ability to show the expanded line of products at meetings and within their exhibit space became an ever-increasing challenge. On average, Malvern brought two products to a show due to space limitations. However, when it came time to introduce the Spraytec™, a particle-sized distribution analyzer for nasal sprays and aerosols, the launch posed a challenge for the company.
Further, an increased number of trade shows–the result of industry fragmentation–and the trend towards smaller, industry-focused events complicated matters due to the limited number of high-priced demonstration products available for exhibition. Spraytec, a large piece of equipment about the same size as a kitchen oven range, now needed to share floor space with Malvern's existing line of particle analysis instruments. Not only was the size of the instrument daunting, the estimated cost to ship the product via FedEx in a protected manner approached $1,000, each way, and additional labor expenses were incurred for the specialists required to set up and break down the equipment. None of these expenses, however, would outweigh the potential costs associated with the product being damaged during shipment as the average cost of one of Malvern's instruments is roughly $70,000, and the damages incurred while shipping could easily reach $25,000 or higher.
Trade Show Troubles
Another concern associated with the size and complexity of Malvern's products is that the availability of demonstration equipment is normally limited. Often, products were not available to ship to sales events, and given that Malvern attends nearly 50 shows per year worldwide, this presented a major problem. Beyond shipping and drayage costs, however, Malvern was facing an even greater dilemma—the loss of product use in their demonstration lab as products were taken from the lab for trade shows for up to four weeks at a time. At times, these periods of non-use were longer if the products came back damaged. In a four week period, the company believes it could miss out on important demonstrations, likely resulting in lost sales. Annually,
these missed opportunities could easily total $250,000.
Marketing Consistency: Channels, Subsidiaries and Beyond
Malvern's expanded product portfolio also resulted in an increased need to educate their distributors and channel partners around the world as dealers are now supporting Malvern's full line of new technologies. With a broadening product portfolio and its increasing complexity, Malvern knew they needed to be 100% "in control of their message" in the global market, and they could not rely on channel partners, who often sell additional product lines from other providers as well, to be specialists in their business.

Beyond channel partners, Malvern's presence in most industrialized nations of the world warrants subsidiary locations on three different continents. While communication through subsidiaries is more consistent than with its dealers, translation and core communications
can understandably be serious issues. Finally, when products need to be shipped overseas, another obstacle often exists because some of Malvern's instruments require export licenses. While the concern for marketing message interpretation is an issue, without an export license to ship a product, the argument becomes moot. Not only does Malvern need to control the message, they needed a means of showcasing their products where product samples are not always obtainable.

In the recent past, Malvern was forced to conduct expensive field demonstrations to counter the challenges outlined above–if the appropriate product was available at a trade show; concerns about an international representative sourcing a large deal; or a product not receiving an export license in time. If the customer could not be accommodated with a product demonstration at Malvern's laboratories, testing samples would then be sent and a customers' purchasing decision would be made solely on the results, without actually seeing the physical product or understanding how it operates. Knowing that neither scenario was ideal, Malvern instituted online web demonstrations of their products. These were somewhat effective, but people still wanted more of an experience with the product before they were willing to purchase –so Malvern turned to Kaon Interactive for a viable alternative to showcasing physical products.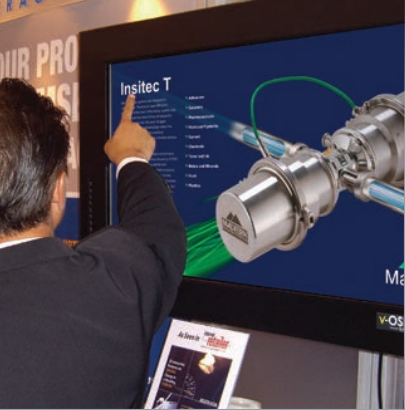 "Malvern is all about innovative solutions, which is why it's even part of our tagline: 'innovative solutions in material characterization'. We take an innovative approach to everything we do and tapping Kaon was just another example of that strategy."
– Randy Byrne
VP of Marketing, Malvern Instruments
The Solution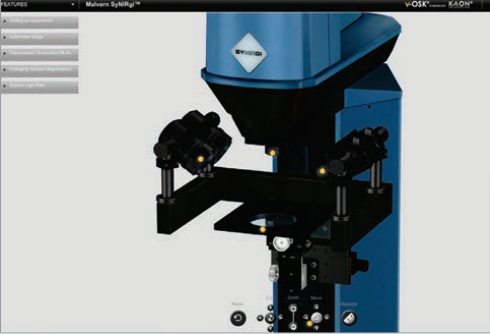 Whether at a trade show, at an executive briefing center or a lab, or even on a customer road show, interactive 3D Product Models on the Kaon v-OSK® (a large, high definition touchscreen appliance) let prospects "experience" virtual products as if they were physically present, putting customers in control of their own experiences with the ability to explore features and options of product models with incredible realism. Interactive 3D Product Models captivate and engage users as they investigate three dimensional moving parts, rotate, view and measure products from every angle, explore unique features, and view animated product demonstrations as relevant product information and messaging is presented.
"Unlike in the past, with Kaon's 3D interactive applications, prospects now have the opportunity to look 'under the hood' and gain far more knowledge and understanding of the capabilities and benefits of our products," said Randy Byrne, VP of Marketing at Malvern Instruments.
This combination of product exploration and consistent communication of benefits and features minimizes the need for product experts, and provides an educational foundation to arm sales associates with in-depth product knowledge and messaging. With the Kaon v-OSK, companies now have the ability to showcase an unlimited number and variety of virtual products, maximizing revenue, while reducing product inventory needed for sales presentations, and floor space. Trade show exhibitors can eliminate product-shipping costs while delivering a compelling, highly engaging experience that permits prospects to interact with their products. Further ROI is realized by repurposing the virtual product models and demonstrations across multiple platforms, including sales laptops, desktops and mobile devices.
Malvern first deployed their virtual 3D Product Models for use at its trade shows, for their more expensive, specialized products. According to Byrne, "Those are the products we've 'Kaonized' thus far, but more are to come. With Kaon, we've been able to overcome not having sufficient demo equipment, or the space to place products on the show floor." Malvern debuted the Kaon v-OSK and soon realized that with the 'WOW' factor of this stunning display coupled with content that lets innovators explore products on their own, Malvern had a winning tool. Not only did the Kaon v-OSK garner the attention of attendees, it also drew interest from competitors as well. Says Byrne, "In some respects, using the virtual product models have proven to be more interesting than having the actual products in place." While Malvern continues to bring physical products, customers can now benefit from the ability to see an instrument's internal make-up and how parts relate to one another. Malvern believes presenting actual products alongside the Kaon v-OSK works to their advantage as they can offer multiple demonstrations of different kinds simultaneously while offering a dynamic competitive edge.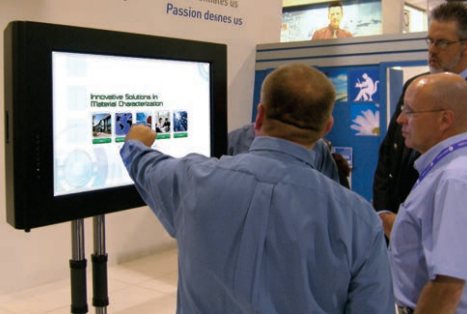 The ROI Advantage
The greatest benefit that Malvern's team is experiencing is the ability to show more products in a meaningful way without the products being physically present. "By meaningful," Byrne concludes, "I mean in a way that's interesting, and that gives customers the ability to interact with the product. Before, when our products weren't available for demonstrations, we had only a static brochure, which was not at all exciting." With the Kaon v-OSK, Malvern is able to quickly and easily train their non-specialists and sales teams in the technology.
Kaon's interactive 3D product applications enabled Malvern's products to remain at corporate lab for demonstration purposes, saving approximately $150,000 annually due to lost sales caused by product inaccessibility. Malvern was also able to reduce the amount of equipment shipped to events, saving $25,000 per year, while minimizing the need for export licenses for international product transport. The cost of damages and equipment downtime was dramatically reduced through the cutback in the number of actual instruments shipped to exhibitions, seminars and short courses.
In addition to having virtual products available on short notice for any upcoming event, Malvern has also experienced a buzz of excitement from their customers. The excitement from the use of the 3D Product Models carried through to their Channel partners, as it became easier for them to communicate key features and benefits to prospects. Sales opportunities were positively impacted as Malvern doubled the amount of product demonstrations presented in an equivalent time, driving deeper understanding of all of Malvern's product offerings and benefits.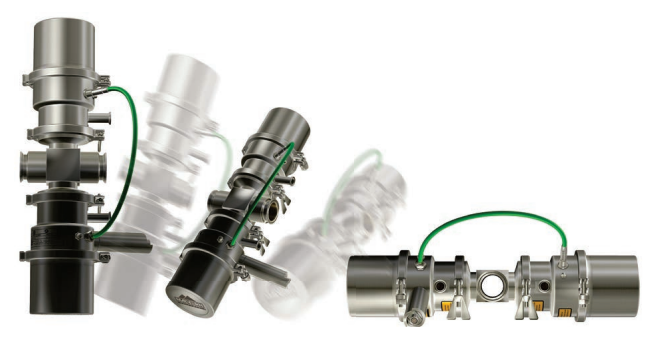 "Kaon is addressing a real business need. This is not technology for technology's sake. It adds value to our business through increased sales and marketing effectiveness. Plus, because we are able to leverage the virtual 3D Product Models across other platforms, it has greatly enhanced the capabilities of our sales team to get more products in front of more prospects, which saves in travel expenses and obviously leads to higher sales potentials."

Randy Byrne, VP of Marketing, Malvern Instruments
Learn More
Find out how the Kaon platform helps marketers innovate while achieving measurable business growth.