case-study
Legrand Accelerates Direct and Partner Sales Using Virtual 3D Product Demos
The Challenge
Legrand Data Communications is a global leader in network infrastructure solutions, offering a complete range of connectivity and physical support products. Legrand Data Communications manufactures the Mighty Mo® Network Equipment Infrastructure products to address airflow and cable management requirements for today's data centers, storage area networks (SAN), and large premise networks. The marketing team at Legrand was searching for a more innovative and effective way to convey their key features and benefits, and more importantly, to differentiate their advantages in a compelling format. With products that are not the most enthralling at first glance, but are necessary for any organization that needs to connect with a network infrastructure, Legrand strove to add excitement and appeal to their offerings while making their selling process more interactive.
With a product suite spanning from connectivity components to 1,000lb server racks, Legrand needed a practical way to showcase all of their products simultaneously. Utilizing 'miniature racks' and 'suitcase demos', sales representatives and channel partners would use a briefcase of product demonstration materials that cost Legrand thousands of dollars to assemble and provide. Prior to each meeting, a sales rep would have to have the right suitcase of samples, materials and presentation to meet a prospect's interest, but obstacles often arose when a prospect wanted to discuss an offering not included in the particular demonstration Sales had brought. This significantly hampered cross-sell opportunities, as sales teams could only present the products physically available on-site, and many of Legrand's larger products proved impossible to bring to sales meetings due to their cumbersome size and considerable weight.
Attending multiple events annually, the process of bringing products to trade shows proved difficult for Legrand. More challenging, however, was the question of how to fit all products into a booth while being able to demonstrate them to show features, benefits and tell a cohesive product story. Due to the complex connectivity associated with operating various hardware, many of Legrand's products were not simple to demonstrate even when they were physically present. Smaller products have many intricate features and competitive differentiators that are difficult to see with the naked eye, while larger equipment is so massive it is impossible to maneuver to show potential configurations. Marketers and sales teams alike were looking for something to make these product demonstrations more engaging and experiential for prospects, while more fluidly telling Legrand's product story at all customer venues.
The Solution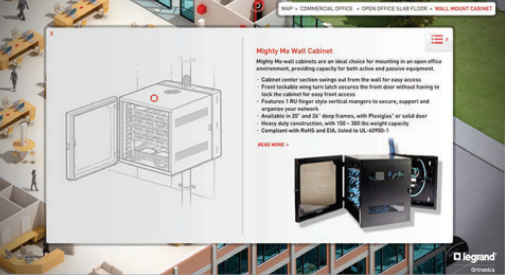 Tony Walker, Vice President of Marketing at Legrand Data Communications, turned to Kaon Interactive, the industry leader in interactive B2B marketing applications, to create high-definition
3D Product Tours that look and behave just like the actual server rack products, to make virtual
product demonstrations accessible across his entire organization. Upon learning about the ability to immerse these 3D Product Tours into a larger interactive solution storytelling environment,
by incorporating video, collateral, presentations, and real-world data center environments, Walker immediately saw how this could not only solve product accessibility issues but completely transform the way Legrand communicates its product story. "We rolled Kaon's technology out at our annual sales meeting in January 2011 and everyone in attendance was mesmerized," Walker recounts. "It was met with an overwhelmingly positive response from Sales and Marketing alike."
Transforming Legrand's Booth At Trade Shows
Legrand attends upward of 20 trade shows annually, and was challenged with demonstrating the full breadth of their offerings, while communicating competitive product differentiators and telling a cohesive product story. First deploying their 3D Product Tours and interactive content at trade shows, Legrand immediately saw the value in their unique, customer-driven content. Prior to utilizing this interactive content, Legrand's booth was not the most inviting setting for demonstrations. While they did assemble a mock data center within their booth, networking and telecom equipment is particularly difficult to demonstrate, as many products look similar and most features and functions can't be presented. Additionally, maneuvering hardware within the booth is near impossible due to size and weight restrictions, so when observing physical equipment prospects could only view a product exactly how it was positioned, often in a server rack behind a glass enclosure, ensuring no interaction.
By adding 3D Product Tours on the Kaon v-OSK® high-definition touch screen appliance, prospects can see a photo-realistic virtual representation of the equipment, and can touch the screen to rotate the product 720°, zoom in to any area, measure, and explore product features in detail. From cables, to servers, to server racks, any and every one of Legrand's products can now be manipulated and viewed from any angle, with animations showing potential configurations as well as product functions, like removing components and illustrating connectivity.
"It is impossible for me to take a 7 foot server rack that weighs 1000lbs and put it on its side to show how it works. When we talk about connecting hardware systems to the racks, there is no way to show multiple options and demonstrate how the products could connect and function, unless I get on scaffolding or a ladder. With Kaon, I can launch the 3D Product Tours and show how it bolts and connects, and I can do that right on the show floor at a moment's notice."
– Tony Walker
VP of Marketing, Legrand Data Communications
The positive reaction to this interactive content from attendees who stopped by Legrand's booth was infectious, and they quickly experienced increased booth traffic and more engaged visitors. Walker observed that, often, trade show attendees enjoy quickly walking the show floor just surveying the booths, without stopping to talk to booth staff (typical of a CIO or CTO who has limited time). "Once we deployed our interactive content on Kaon's touch screens, these passive type of attendees began to gravitate into our booth right to the 3D Products and interactive solution storytelling. The users can drive their own experience on the interactive touch screen, examining whatever products pique their interest, making the encounter exceptionally personalized and memorable," Walker commented. "After they've investigated the products they want to see, prospects often end up seeking out booth staff to ask questions or further discuss offerings, giving us a face-to-face interaction we might not have otherwise had."
Legrand was also able to increase the amount of products they could demonstrate at events, while improving the environment within the booth and cutting product shipping costs. "Our trade show booth is a mock data center, but not all our products are represented because of cost and size. Kaon's solutions let us demonstrate all of our other products not featured within the data center, and allow us to talk about our offerings from a high level down to the details," says Walker.
Legrand's interactive content not only contains dynamic 3D Product Tours, but also networking diagrams showing the workflow and process of connected hardware within a virtual Data Center setting, enabling a better discussion of how different products can be configured to operate together within their natural environment. Now we are able to address multiple audiences in the buying cycle whose interests can range from a detailed product feature to a broad overview of Legrand's offerings within a network, Kaon's solutions allow for a unique discussion that stays relevant to a prospect's needs and interests.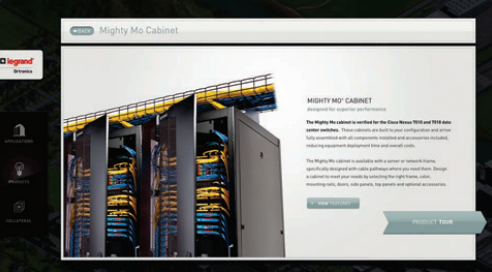 Super-Charging Every Sales Encounter
Legrand provided this dynamic interactive Sales and Marketing content to their entire 160+ person global sales team, including direct sales, manufacturers' representatives and partner channels. The mobility of Legrand's new interactive marketing applications on mobile devices and laptops vastly expanded the potential venues where Legrand's team could provide full-scale product demonstrations, and provided a tool to capitalize on impromptu encounters like never before. "Sales representatives in major cities can't carry big demo suitcases with Legrand's large products, their briefcase, and a laptop around to various locations on public transportation," said Walker. "Now our interactive solution on iPads and laptops allows us to eliminate that cost and inconvenience completely, while making out sales demonstrations flexible and dynamic, tailored exactly to the prospect.
Where representatives previously struggled to appropriately prepare for sales meetings, they're now armed with an interactive solution that combines all existing tools into one interactive experience, including high-definition 3D Product Tours, dynamic solution storytelling, presentations and a collateral library. When sales teams have the ability to show their customers every product in their portfolio at every sales and marketing encounter, they are empowered to extract the most out of every planned or unplanned face-to-face customer meeting. A powerful and transformative connection is realized when those sales encounters are turbo-charged by putting customers in the 'driver's seat' and giving them control of their own experience, as knowledge retention rates are highest when a user is directly participating in the learning experience.
"Visually showing our story rather than telling it is very effective for us, because we talk about things everyone needs to have but no one pays attention to or knows about. In a trade show booth, you get prospects hooked more with amazing visuals," Walker said. "Legrand Data Communications has products that can't always be demonstrated physically, but with virtual 3D Product Tours demonstrated in a network diagram you can see exactly how these solutions would interact together. For example, it is difficult to communicate how our bifurcated cable pins in our pre-assembled SNAP® connectivity work. You can look at it physically in a trade show booth, but you don't see the uniqueness and you can't pull it apart to see why it sets us apart from our competition. When you look at the Kaon 3D Product Tour demonstration, with the zoom-in capability, you can see the difference and see where the cables are bifurcated. This high-definition demonstration is the best way to take something small and intricate and blow it up for a clear view without distorting key features, to really set our products apart."
Taking their interactive marketing content even further, Legrand built a data center within their Experience Center and added a 24" Kaon v-OSK touch screen appliance. The physical products in the data center, coupled with the virtual product demonstrations, facilitate an exceptionally customer-driven experience. Regardless of a customer's interests or specific business challenges, the interactive marketing applications allow Legrand to address them all, explains Tony Walker. "If we have detail-oriented customers who want to see live product and interact with it we can bring them right to the hardware. For customers who don't know who Legrand is, we bring them to the interactive touch screen and walk them through various solutions and examples, then proceed to bring them to the actual products if they have an interest. Now, we don't have to waste time with bits and bytes until they know how the technology works. Kaon's solutions offer a very nice and flexible way for us to demonstrate many options."
Legrand also provided one of their distributors, Anixter, with access to interactive marketing content on a Kaon v-OSK touch screen appliance. By having this application available as an interactive experience during customer visits, Legrand gains a marketing differentiation and competitive edge, as partners such as Anixter often sell products from multiple Legrand competitors. This unique and eye-catching selling toolsets them apart from competitors by positioning them as an innovative company, while also better showcasing the features and benefits that are true product differentiators. Having the same content deployed at all customer touchpoints has greatly benefited Legrand, as customers quickly recognize and remember what they have experienced, due to increased knowledge retention.
Data Center Airflow Transformation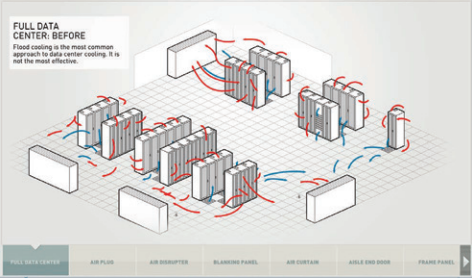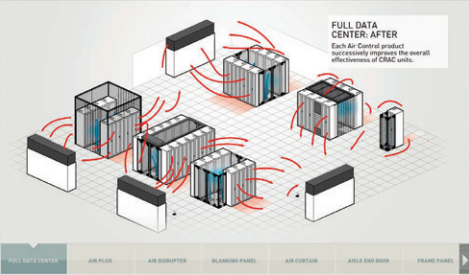 The ROI Advantage
In addition to the accelerated prospect knowledge, increased engagement within their booth, and revitalized product presentations that better tell their product story, Legrand was also quickly able to achieve a financial return on investment by cutting product shipping costs and significantly accelerating sales opportunities.
In 2010, before deploying Kaon's content, Legrand attended 10 domestic trade shows and was obliged to ship hardware and shells of products to every event. After rolling out Kaon's 3D marketing applications at trade shows, Legrand more than doubled the number of shows they attended in 2011, including 4 international shows, increasing their event presence by 130%.
In the first year of deployment, Legrand saw a significant increase in booth traffic, and interactivity helped them to generate scorching hot booth leads like never before. This revitalized trade show environment enabled Legrand to increase the number of leads attained at shows by a staggering 106% in just one year. With all of their products and solutions represented virtually, Legrand can now expand their trade show reach by attending smaller one-day events; demonstrating their entire solution set on the interactive touch screens. This allows Legrand not only to attain more leads at these shows, but higher quality leads—as interactive product demonstrations really resonate with prospects, increasing engagement and making leads much hotter for sales follow-up. "One of the biggest things interactivity provides to our trade show booth is that it brings Legrand to top of a prospect's mind, so when a sales guy calls after the show they have recognition of Legrand due to recalling their interactive experience in our booth," observed Walker. "Because our trade show experience is now more engaging and personalized, prospects have a recognition of Legrand versus our competition and greases the skids for us to have a much smoother sales conversation rate."
From sales demonstrations, to trade shows, to experience centers Kaon's marketing applications have helped Legrand to consolidate their message, accelerate sales and tell their product story better.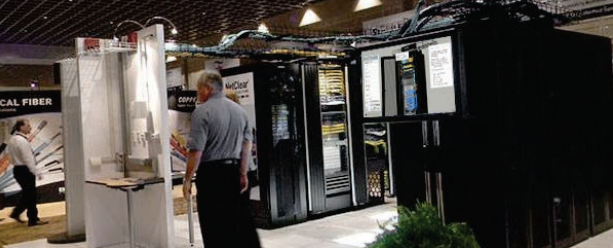 "One of the biggest things interactivity provides to our trade show booth is that it brings Legrand to top of a prospect's mind, so when a sales guy calls after the show they have recognition of Legrand due to recalling their interactive experience in our booth. Because our trade show experience is now more engaging and personalized, prospects have a recognition of Legrand versus our competition and greases the skids for us to have a much smoother sales conversation rate."

Tony Walker, VP of Marketing, Legrand Data Communications
Learn More
Find out how the Kaon platform helps marketers innovate while achieving measurable business growth.