case-study
Juniper Drives Down Demonstration Costs from $100 to $2.33 Per Minute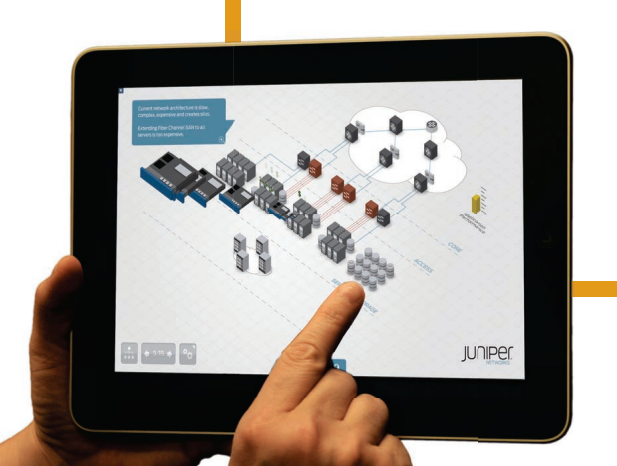 The Challenge
Juniper Networks (NASDAQ: JNPR) is a global leader in network equipment & manufacturing and supplies the software, silicon and systems that "transform the experience and economics of networking." With an expansive product portfolio and globally dispersed sales channel, the company was challenged to help consistently demonstrate and differentiate Juniper's product offerings everywhere prospects encountered their solutions. Juniper was looking for a long-term partner to better deliver a compelling and engaging experience at trade shows and develop cutting-edge mobile applications to provide a competitive advantage for channel partners.
First, they needed a better way to demonstrate products at shows and avoid expensive product shipping costs. Juniper attends multiple trade shows per year around the globe and the cost of shipping products, paired with expensive travel for product specialists, power/AC for the hardware, and other personnel to assemble bulky products of racks and gear, posed a challenge for Juniper. Despite spending a significant amount of money getting physical products into their booths, Juniper wasn't showing as many of their hot new solutions as
they wanted to at events. Video was integrated alongside the physical products, but they found it too scripted to really captivate prospects, especially in a landscape where
every exhibitor is competing for attendees' attention.
Second, the company wanted mobile applications developed to efficiently disseminate differentiated and updated solution and product information to partners. Juniper's channel partners reach every corner of the globe, and therefore, developing a cutting-edge mobile app was a top priority. Partners are often selling multiple products from a variety of manufacturers, so Juniper wanted not only to make their products easier to sell, digest and access, but also desired a better way to differentiate them from other products with an innovative interactive solution that stood out.
"Kaon's solutions are an absolute steal for what you can do with it. Even utilizing it as much as we do here at Juniper, there is a lot more that we could be doing to achieve an even greater ROI."
– Lou Schmidt
Senior Manager of Solutions Delivery, Juniper Networks
The Solution
For Trade Shows
Lou Schmidt, Juniper's Senior Manager of Solutions Delivery, turned to Kaon for its unique ability to demonstrate and differentiate complex products interactively. Kaon created more than 30 interactive 3D product models, that look and behave just like the actual products, which Juniper deployed in its trade show booth on the Kaon v-OSK®, a high definition touch-screen appliance. Not only did the HD virtual product visuals draw people into the booth, but visitors could now easily interact with Juniper's enterprise-level networking products at trade shows like never before; zooming into key features and benefits, moving and spinning products around, and
learning how products operate and interact, all at their own pace and preference.
Now armed with a truly interactive tool that enables presentations to be tailored to the audience at a moment's notice, Juniper's booth began attracting much more attention and seeing reactions they had failed to receive from video. "Video is scripted and that's great if you have someone attention, but if not you need to be 'interactive' and really captivate someone," Schmidt commented. "No one likes to be statically pitched to. Now, I can pace the presentation to whom I'm speaking, I can go forward and sideways. Videos don't let me to that."
The 3D product models more effectively augmented the traditional product demonstrations and better uncovered the customers real business needs, as booth staff could refine product requirements and launch into more specific demonstrations if needed. Juniper also utilized their product models to attend a greater number of smaller events and decrease the amount of booth space they need by shipping the Kaon v-OSK that could demonstrate their full product portfolio.

Kaon's virtual 3D product models, coupled with marketing messaging and interactive solutions diagrams paved the way for anyone to easily become a Juniper product expert, as salespeople and marketing could easily answer any question a prospect has — from security to specific
product details. The success Juniper experienced giving more engaging, consistent, and dynamic demonstrations at trade shows quickly spread throughout the company. Kaon's applications are now used as internal training tools for new employees and Juniper has plans to use their interactive content at analyst and investor presentations in the coming months.
For Channel Marketing
With globally dispersed salespeople in an increasingly mobile world, Juniper wanted to develop a mobile application for their internal sales and channel partners, a task given to Bob Yee, Director of Channels. His goal was to create a new content experience – not just replicate what was on Juniper's website – to better inform partners with relevant and timely content regarding Juniper's product and solution updates anywhere, anytime. Juniper looked around at a variety of providers, but after speaking with Lou Schmidt about the success of Kaon's applications in the trade show space, Yee soon realized that the 3D models provided an excellent foundation to complement other content in a mobile app, and that Kaon was much more than a 3D product modeling company.
Kaon was chosen by Yee for its disciplined engineering process and expertise. "Kaon really differentiated themselves from their competition by taking time to understand our use cases and requirements; and had senior in-house designers to execute our vision," said Yee. Kaon worked with Juniper to quickly create a new mobile solution and user experience –the Juniper Partner App for the iPad, available in the iTunes Store. The new application gives Juniper Networks' authorized partners immediate access to sophisticated virtual 3D product models and important partner information.
The Juniper Partner App incorporates a unique interactive "Port Calculator" that allows partners to determine the appropriate sized product for a given customer. This is exceptionally notable as Juniper had no automated way of doing such a calculation before; and now this tool is available to every sales representative and partner. Partners can also view a 3D product model to visualize the selected product. The App additionally provides access to live updates, via social media, on Juniper events and promotions.
Partners can now give product demonstrations tailored to every individual customer, providing a more personalized experience than ever before. On the road, in an airport, at a remote meeting, every sales professional is now able to give a complete demonstration of Juniper's products using only their iPads. Having a cutting edge sales tool available to the entire sales team is giving Juniper a competitive advantage by genuinely exciting partners while making their solutions and products easier to communicate and sell.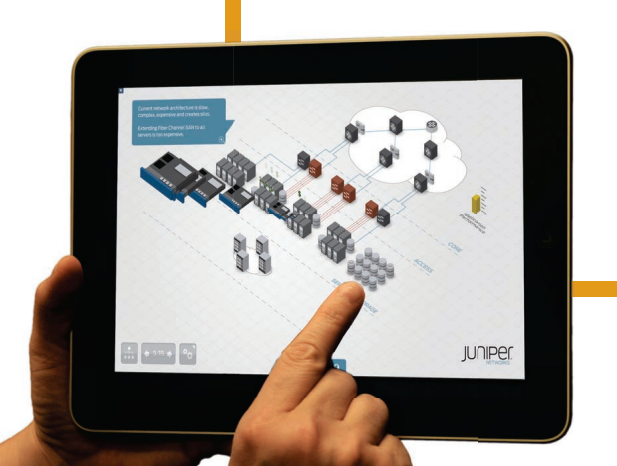 The ROI Advantage
Prior to utilizing Kaon's 3D Product Models and the Kaon v-OSK at trade shows, Juniper calculated that it cost approximately the industry average of $100 per minute to demonstrate their products (taking into account all equipment costs, configuration, shipping, travel and
personnel expenses). Upon creating the Juniper Partner App, which included virtual 3D product models that could be demonstrated by their internal sales team on iPads, Juniper was able to drive the cost of giving a product demo down from $100 per minute to an impressive $7 per minute. Once Juniper Partner App was made available to their global channel partners, the users of App increased while the cost for demonstrating their products went down to an astonishing $2.33 per minute. In addition, within the first 20 days of the Juniper Partner App release, over 600 active downloaded the App and are now using it on a regular basis.
Kaon's creation of the Juniper Partner App has helped Juniper accelerate the sales process with
very visual and compelling product content tools on the go, helping to turn complex networking equipment into easy to buy products.
With Kaon's applications, Juniper can now ensure its product message is consistent
across all of its sales and partner channels, virtual 3D product demonstrations are available for every sales encounter and product messaging can easily be translated for global markets throughout EMEA and WORLDPAC.
"Partners are selling multiple products, including our competitor's products. We want to make sure our products are easier to sell, make the content easier to digest, and easier to access. Using cool tools, like Kaon's, to view and access products is a huge benefit and the value of the Kaon app has clearly been demonstrated."

Bob Yee, Director of Channels, Juniper Networks
Learn More
Find out how the Kaon platform helps marketers innovate while achieving measurable business growth.