case-study
DXC Shortens Sales Cycles, Reduces Costs, and Increases Customer Engagement through Digital Transformation
The Challenge
DXC Technology is a world-leading, independent, end-to-end IT services provider that helps its clients harness the power of innovation to thrive on change. The company's name stands for their mission of digital change to the "x" degree. Hence, constant innovation and digital transformation is integral to the corporate culture.
As part of this mandate, DXC took on a companywide digital transformation mission to internalize the solutions they were selling to their clients. With that came a strategic initiative to make their content and materials come alive.
"We needed something that was going to break out of the mold, something that would reach out to people," said George Ferguson, go-to-market lead at DXC Technology. "We were concerned that our traditional presentations, brochures, and demos were good, but not great."
The team was looking for something that would help DXC's sales personnel to better communicate the value of their complex digital solutions in an engaging way to their clients. They were not clear about exactly what that something was.
One of DXC's service areas is digitizing and personalizing workplace and mobility with a set of solutions called DXC MyWorkStyle™. This digital workplace portfolio, designed for large global companies and governments around the world, encompasses a whole range of solutions including smart meeting rooms, AI-based proactive support, and IoT-based worker safety. The goal is to make productivity simple and intuitive to attract, retain, and delight employees. And behind the service is the vast technological network required to make it happen. The end goal being to make the user experience seamless and consumer-like, regardless of device (mobile, tablet, PC) or location.
George discovered Kaon Interactive at the Gartner Technology Innovation Conference 2018 in San Diego, where he heard Kaon's CEO and President Gavin Finn speak about digital transformation in enterprise marketing and sales. He found Kaon's solutions exciting, and his mind began churning about how this could meet DXC's digital transformation corporate directive within their marketing and sales teams.
The DXC team was not looking for something like Kaon at the time, but once George saw the capabilities and use cases, he realized how well it aligned with their need to better sell large scale, integrated digital solutions, like MyWorkStyle.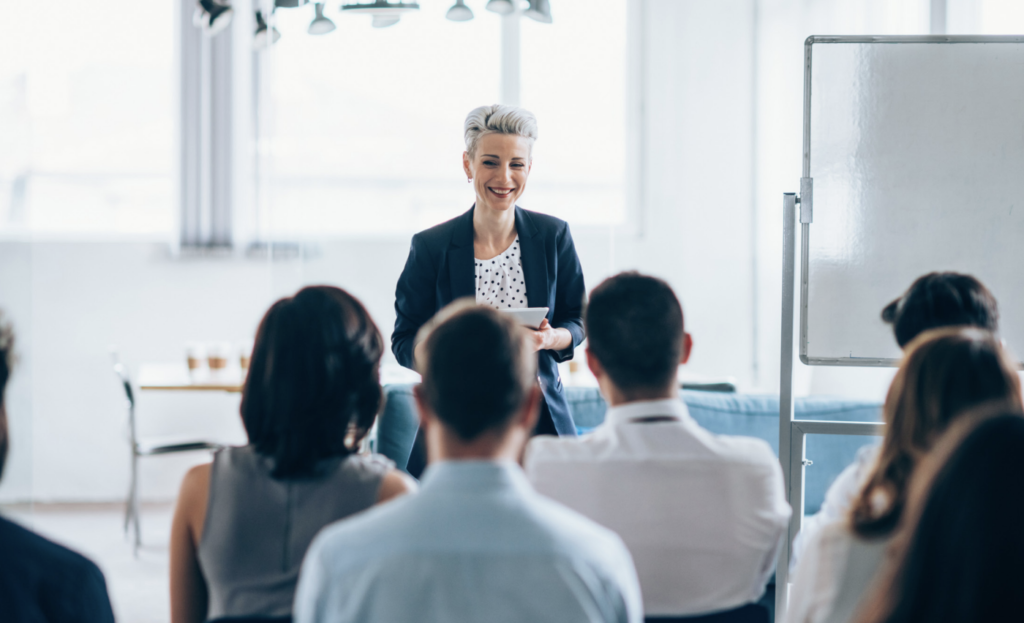 Complex Sales Cycle
With digital transformation comes innovation and new resourcefulness, often resulting in some cost savings. DXC has a large global sales team aligned by vertical industry that is supported by a smaller team of digital workplace specialists. The knowledge these digital workplace specialists had was more specialized and extremely valuable in advancing the sales cycle. With a limited number of these specialists, DXC realized that their number of missed sales
opportunities was escalating.
Sales presentations were complemented with live demonstrations. These live demos were engaging and effective, to an extent, but they also had two crucial drawbacks:
They were resource-heavy, taking a long time to set up – sometimes as long as three weeks for an extensive solution – and requiring the deployment of a specialist.
They only showed half of the product. While you could see what the solution did, clients were unable to see how the solution was functioning behind the scenes; much of the value is on the back end with the technology. So, if a product expert was on site, they would use a digital white
board to draw out the how the process is real and reliable
"We were looking for something that would fit between those two extremes that would empower salespeople who were not subject matter experts to go and demo our solutions and show what they meant from a business level as well as how we accomplish them. Show that, yes, this is
real," George explained.
The corporate mandate for transformation forced a new, more resourceful solution. The DXC interactive application, developed by Kaon Interactive, became an extension of this reach for innovation, creativity, resourcefulness and productivity.
The Solution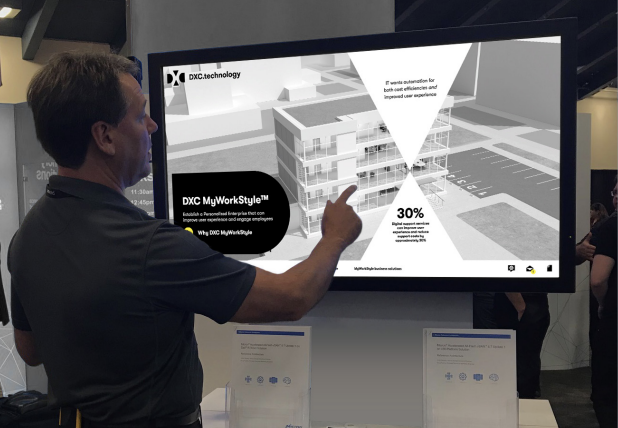 The Kaon platform on which the application is built offers instant cloud updates globally, deployment across all devices (mobile, tablet, PC, touchscreens), availability with or without internet, and translation into six languages for use around the world.
Delivering both cost savings and business efficiencies, the level of knowledge and technical expertise that was once limited to product specialists is now broadly accessible to every sales representative on a global scale. The sales and leadership teams keep the application relevant by continuing to implement valuable application updates post launch – a relatively simple project thanks to the power of the Kaon platform on the back end.
DXC is finding that the application is significantly helping their sales team more effectively communicate their unique value earlier in the sales cycle. They are able to send fewer specialists out for expensive and resource-heavy business travel to customer sites. Now, specialists are only sent out at the end of the sales cycle to build credibility and close the deal.
"What we were trying to do was make a level of knowledge and expertise, that has been previously limited to a few subject matter experts, broadly accessible to salespeople who, although knowledgeable, were not necessarily knowledgeable to a high level of detail about our offerings, and I feel like we succeeded in doing that," George said. "There were only a small number of experts in the world who could really talk about these things in detail, and, yet, we could go and make their knowledge broadly available to our salespeople in a way that didn't require us shipping an expert to various locations around the world."
A Meeting of the Minds
In addition to digitally transforming their organization, the process to develop the application pushed DXC to better understand, translate and distill their internal technical knowledge to better prepare their sales team. In order to produce the interactive sales and marketing application they envisioned, George said, Kaon's team had to seek out the minutiae of DXC's technological solutions from internal team members. Kaon's design team translated these valuable insights into a step-by-step visualization of how the MyWorkStyle solution clearly solves their customers problems.
Essential throughout the DXC application development and deployment journey (and a Kaon-recommended best practice) was obtaining feedback from the sales leadership team, especially on the technical side to align both their business and technology value stories. "Initially we looked at this as we're going to transform our marketing materials into something very exciting and interactive. However, our worldwide sales lead came back and said, 'You know this is really good, but what we also need is the ability to show that DXC has the technical smarts to actually accomplish this.'"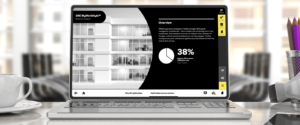 It was DXC's idea to pair the business process with the technology, but Kaon figured out how to bring it to life. "They imagined, 'Ok we're going to have users open up an office building and show the employees actually working in these various business use cases, solving business problems; but then, at any point as we take them through that solution, you can go back and see a technical diagram of here's, step-by-step, how DXC is accomplishing this.' That was a unique implementation for us in the way we present ourselves, our products and our value. It turned out to be a great meeting of the minds," George observed.
"One thing I really appreciated about Kaon was their ability to very quickly grasp what we were trying to accomplish and to translate it into very innovative formats that met our needs, excited us, and, in a lot of ways, were better than what we had thought of," George said. "It was a very good partnership back and forth between our marketing team, our sales leadership, and Kaon."
The go-to-market team responsible for the application was well aligned with sales leadership from the onset to ensure the application highlighted the fundamental understanding of their buyers and how DXC's solutions would create value and fulfill buyers' needs. As anticipated, the application has been heavily used by the DXC sales team, reinforced by the support of sales leadership, who have mandated their teams utilize the application to effectively and consistently communicate their value differentiation. Additionally, it is being used in executive briefing centers, digital transformation centers, as well as at trade shows and industry events around the world, such as VMworld and Oracle Open World, in the place of live demonstrations.

The ROI Advantage
DXC had two objectives for this project: to digitally transform their marketing assets and to enable sales to tell a wholistic product story throughout the entire sales cycle. Both objectives have been met and exceeded. With the application's analytic capabilities (another feature of the Kaon platform), George can track the widespread utilization. Since the launch, the application is being used an average of 16 times per user every week, mostly in Europe (48%) – followed by North America (33%) and Asia/South Pacific islands (16%) – predominantly on PCs (66%), the web (24%), and iPads (8%). Through the Kaon High Velocity Marketing Platform®, the DXC application was able to accommodate a global omnichannel and device-agnostic approach.
"It is the level of passion that sales leadership has around it that I would consider to be our measure of success. It's not us pushing it to our sales team, it's them pulling for it and mandating its use because they see so much value in it. That's what, to me, has shown its success."
– George Ferguson
Go-to-Market Lead at DXC Technology
Additionally, DXC has noticed an acceleration in their typically long sales cycle, and they are receiving anecdotal evidence of increased customer engagement and retention. For example, George told of a recent sales meeting during which the interactive application was used instead of their previously utilized large slide presentation. "Using the application really changed the quality of the discussion," George said. "The customer could clearly see themselves through these various business cases." In previous sales meetings, presenters would often notice clients losing interest about halfway through, but, using the interactive application instead, they noticed that clients are highly engaged throughout the entire 90-minute meeting.
Training and Adoption
As part of the Kaon User Adoption and Advocacy Program, DXC salespeople have been trained and coached on how to use the application to successfully engage clients sooner and close deals more efficiently.
"The training has been key in teaching our team how to use the application. We presented it not just in terms of here's an application and here's how you use the application; we've presented it in terms of talking about a different way of selling. Let's talk about how we can get your clients involved in using the application so that they become participants, so that you're not just explaining this to them," George explained.
After the initial training, Kaon's User Adoption and Advocacy teamed with DXC to develop their internal training program for the application. Kaon facilitated the process and provided valuable insight into how people learn, how to best present the application internally and externally, and how to derive maximum value from the investment. Following that, DXC's training team conducted many virtual training events – targeting each user group (sales, demo and digital transformation center staff, vertical industry teams). Each team was taught how to use a multi-channel approach to client presentations, using the application with short slide presentations, videos, and other assets.
Ongoing Evaluation
DXC is planning on adding additional use cases, better showing vertical solutions, and allowing greater customization of environments to feature different partners, which will provide the full personalization that live demonstrations do.
"As a solution integrator we support multiple technologies," George said. "We'd like to allow the application, particularly the portion showing the technological underpinnings to our solutions to be customized for the particular partner that we're going into the opportunity with or the partner that might be sponsoring a trade show."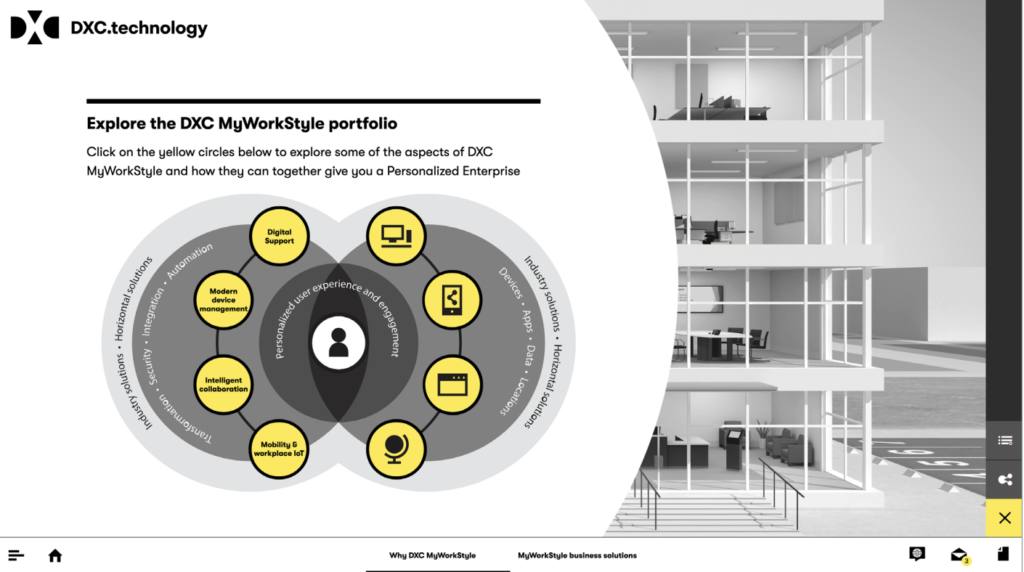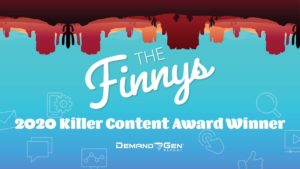 This application was recognized by Demand Gen with a 2020 Killer Content "Finny" Award for Interactive Content.
Explore
Kaon Interactive Storytelling Applications