case-study
Ciena Reimagines Sales App for Channel Partners, Doubling Global Usage in 7 Months
The Challenge
Ciena®, a network strategy and technology company that offers rewarding customer experiences and business outcomes, was looking for a tool to help elevate the conversations of their 135+ global partner companies in a mobile environment. Their goal was to enable world-class partner education in the palm of a hand, creating a more self-sufficient and effective channel partner network.
"We needed something to show partners what the vertical landscape looks like," said Ciena's Global Director of the Managed Service Provider (MSP) Partner Program Kevin Baranowski, "to enable partners to tell the complete solution value story."
Ciena recently made the decision to evolve to a 'solution selling' methodology to help better address the needs of the main market verticals they sell into through their partner network. The new application needed to contain industry insights, collateral, training videos, multi-language support and a virtual drawing function. The solution had to visually capture partners' and end-customers' focus and attention. It had to enable channel partners to better connect with end-customers' pain points in their industry vertical to accelerate the sales cycle and to facilitate new insights and conversations in a mobile environment. With quarterly content updates, Ciena needed an application that was easy to keep relevant and consistent across a global sales force and partner base, regardless of the device, operating system or location. The result is the Ciena SPEAR App. This application provides market intelligence, sales collateral, solution use cases, training and product information all in one simple application and all deployed on the Kaon High Velocity Marketing Platform®, a patented technology platform that maximizes marketing ROI by creating and deploying high-impact interactive applications in real-time to any device, anywhere.
"The SPEAR App is a new way to do business," said Ciena Director of Global Partner Communications Betsy Hansen. "It is mobile, it is compelling, and it showcases Ciena solutions, not just products, in a way that solves problems to directly address the customer's need in their own industry."
"The beauty of the SPEAR App is that it is mobile and sits in the palm of your hand, so it is always there; it breaks down vertical markets and business challenges simply, creating more insightful customer conversations; it is bringing new evolutions to light; it brings content to customers in real-time; it encapsulates each area a customer might be going into; it shows, rather than tells, what technology can solve a problem; and it elevates interactive 3D product models to the next level with solution selling."
– Betsy Hansen
Director of Global Partner Communications, Ciena
The Solution
Ciena has been using the Ciena App Portfolio (CAP) with interactive 3D product models, developed and deployed by Kaon, for over 10 years. The value of the Kaon application was evident across the global marketing and sales teams, saving Ciena significantly in product shipping costs every year. Also evident was that as their market needs changed, they could evolve the Ciena App Portfolio (CAP) application to meet them.
Seen as the 2.0 version of the CAP application, the SPEAR App is interactive and visually stimulating to capture an audience that wants to know the outcome and how it affects end users of technology and solutions.

Kaon v-Draw® allows clients to redesign and rebrand new network solutions right in the application.

Pitch cards, solution sheets and battle cards are available within application, reducing the need for paper or delayed responses while sales locates and sends collateral.

Embedded videos serve as training and educational tools.

The bandwidth calculator in the application enables sales to predict bandwidth usage while talking with a customer.

A budgetary quoting tool will let a user select a piece of hardware, get a price and have a quote sent to them.
Interactive 3D product tours aid in showing and communicating unique value differentiators and
feature sets.
"What we are providing here is more of an industry overview, and how the ecosystem works together. We want to provide a landscape that allows users to understand what a particular vertical or buyer is facing in order to design a complete solution and incorporate Ciena products where they fit best," Baranowski said.
The sky is the limit when it comes to the Kaon platform as the next release will include a RSS feed, which will refresh content automatically when a user is online providing the latest, and most relevant, news by vertical. Ciena is already working on a 3.0 release in the fall that will incorporate Kaon AR® (augmented reality) and Kaon VR® (virtual reality). The upgrade will allow the Ciena sales team and partners to experience a data center complete with racks and cabinets in a realistic, immersive and educational environment – further painting the big picture overview of the full technology solution with positive outputs relevant to the industry vertical.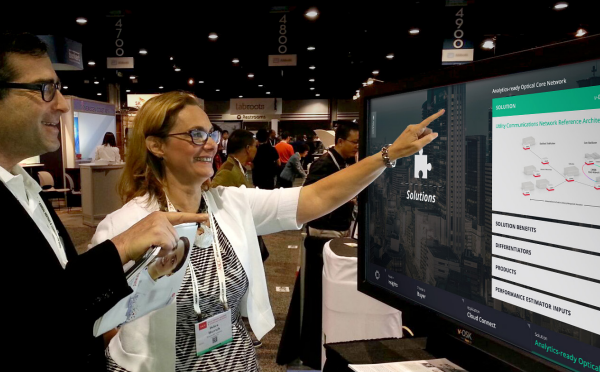 "The average customer cares about what outcome the solution brings," Baranowski said. "They want to know their data is secure, accessible and helps them do their job. This is how Kaon's interactive storytelling applications, through virtual reality, goes beyond just the 'wow factor' for us to be a valuable selling and educational tool."
Creating and deploying content on the Kaon High Velocity Marketing Platform® has allowed the necessary version control and an accelerated content creation and dissemination process. With internet connectivity being a constant sales challenge, it also is beneficial for Ciena to have native applications that educate partners while they are offline. The more education they can push out that everyone can access in one location, the more Ciena can help their
partners sell Ciena solutions.
The ROI Advantage
Ciena launched the SPEAR App at end of November 2016 and has doubled the usage of the CAP application in seven months. Twenty percent of those users are partners, and the hope is that the majority of Ciena and partner sales engineers and global sales teams start using it by 2018.
"We're seeing adoption in-line with our expectations and it continues to move in the right direction." Baranowski said. "We're making the right strategic moves, and, together with Kaon, we are maximizing feature set priority."
Global adoption is assisted by Kaon launching the application in five languages: English, Spanish, Portuguese, Korean and Japanese.
Beyond the mobile and website application, Ciena is using the newly launched application in the Ciena Mobile Lab, giving visibility to approximately 3,500 people per year.
Daily and weekly reports from the built-in user statistics show regional usage by user type, Ciena or partner, so adoption and usefulness of the features and content can be tracked, and adjustments or education based on usage gaps can be deployed accordingly. The same goes for product views. Ciena can now have insight on what its partners are spending time looking at, and they can ensure their industry focus or target is aligned.
"My mantra is 'simplify, standardize and scale'," Baranowski said. "How do we make everything as simple as possible? Kaon Interactive allows us to do just that."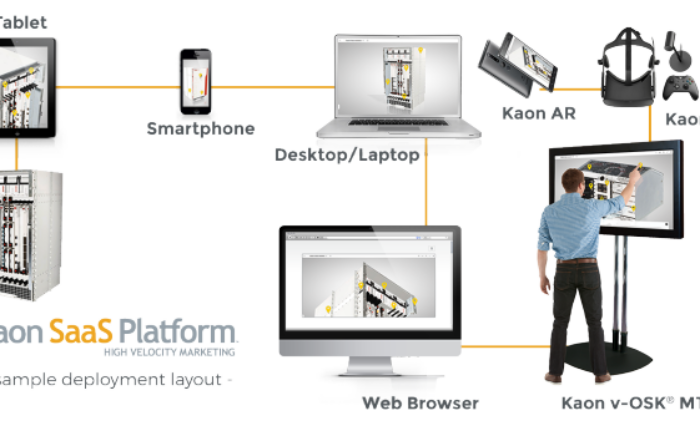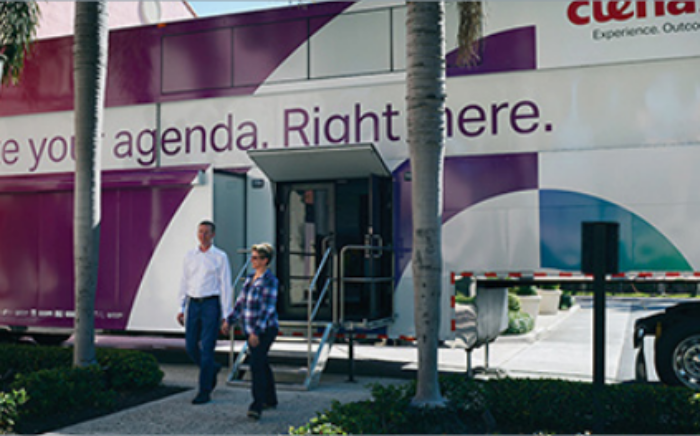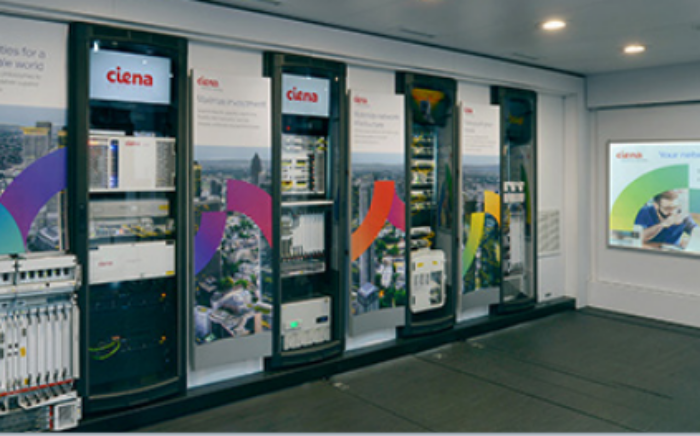 Learn More
Find out how the Kaon platform helps marketers innovate while achieving measurable business growth.