blog
What does it mean to be "metaverse-ready" in the B2B realm?
Estimated Reading Time: 7 minutes
For B2B companies, being metaverse-ready means building the capability to digitally engage with customers in a multi-person immersive environment — that they may create or in that they may simply participate.
Imagine 10 customers from their offices (or homes) all over the world to engage simultaneously in a digital workspace where they actively discover the value of your solutions in the context of their business needs. Essentially, companies can recreate their briefing centers and conference rooms for sales meetings in the metaverse, reaching and engaging with buyers like never before.
Framing the Metaverse for B2B
While much of the initial hype about the metaverse has been about virtual reality (VR) gaming and shadowing daily life inside a fully immersive VR world, that vision is consumer-centric. For B2B sales, the benefits of the metaverse can be achieved with or without VR headsets. Immersion comes in many forms. It involves the collaboration of several people in the same 3D digital space, which can happen on a computer or tablet, as well as in VR.
The broad categories of metaverse use-cases in enterprise sales include:
Communicate complexity by helping buyers understand complex workflows and environments. Enterprise sales teams struggle to consistently communicate differentiated value when their solution is complex. However, when sales teams bring buyers into visually immersive workspaces, there is a better opportunity to more effectively communicate complexity. This allows for more efficient sales meetings and for shorter sales cycles.
Achieve collaboration and consensus in facilitating the buying process across multiple people, roles, and geographies. As buying processes have become increasingly dependent on larger groups of decision-makers and influencers (up 40% in just two years) it has become imperative to get all of the decision-makers in the same virtual workspace at the same time to improve efficiency and promote better buying decisions.
Personalize Engaging Events by creating virtual world experiences instead of traditional trade shows. The next generation of online conferences and meetings could be immersive metaverses because there are no boundaries constraining attendees from exploring any variety of spaces, products, and interactive experiences. Rather than simply creating a digital version of the physical trade show, these 3D immersive worlds will transport all attendees to personalized and engaging journeys customized for each "exhibitor."
So, how does a B2B company prepare for this potential? By deploying platforms that not only deliver customer engagement through the non-linear buying journey of interactive exploration but also facilitate real-time sharing and collaboration in digital immersive environments. In this manner, the metaverse becomes accessible as a means to build trust and partnership between sellers and buyers.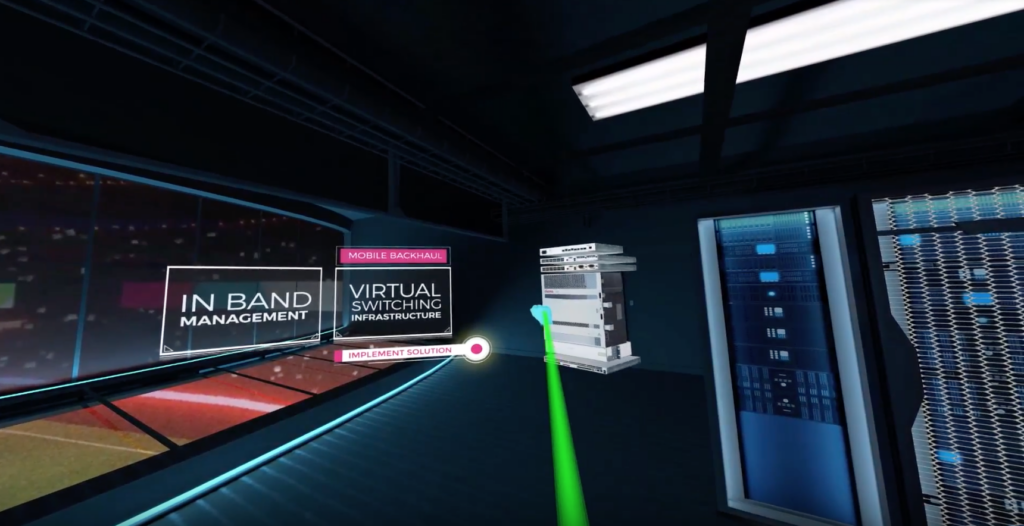 Supporting the B2B Metaverse
Kaon Interactive builds interactive customer engagement applications that are powered by the world's only B2B metaverse-ready platform. The most remarkable aspect of the platform is that it enables these interactive applications to be experienced on all device types, not just VR headsets. What this means is that B2B enterprises can future-proof their customer engagement strategies. The buyer chooses their preferred experience venue, rather than a company imposing the same one-size-fits-all technology on all users.
Imagine Minecraft, but instead of a primitive, imaginary world, it's a world you created to represent your brand and value, an immersive exploration of your solution story in which buyers can discover freely.
Not only are these customer engagement experiences available to individuals to explore at their own pace and in their own level of detail, they are shared experiences in which multiple people engage at the same time. Like Minecraft, everyone is in the same immersive experience, but they are mining their own resources.
Recall visiting museums on school field trips: sometimes you were guided, and sometimes you explored on your own when something captured your interest. Your salespeople or product experts can guide conversations virtually, but buyers maintain the freedom to dive into an area of special resonance when you spark their interest and imagination. Just as importantly, the buyer can guide the conversation and lead others.
The metaverse is a digital workspace where customers can participate actively to discover the value of a company's solutions in the context of their own business and technical needs. The following elements of the metaverse facilitate enhanced and meaningful customer engagement.
Immersive 3D Experiences
When a user navigates through a 3D space, whether it be in a browser on their computer, in a VR headset, or even on a mobile device, they focus on this digital world and are transported away from the distractions of the physical space.
Interactivity
The metaverse is not a static environment; it is dynamic, which allows users to shape their experience by selecting items, opening doors, performing functions, etc. Each of these actions creates a reaction from some part of the digital environment, so the experience is essentially a feedback loop of actions and reactions. This is diametrically opposed to a typical passive presentation or video experience.
Personalization
While the digital space may be the same, every individual experiences it in a highly specific and unique way. This is because they make their own decisions about where to go, at what pace, and at what level of detail. Personalizing sales experiences is key to building relevance and understanding, which is why these applications are so effective for enterprise sales.
Always On
The world of enterprise sales is shifting from live, face-to-face meetings to an asynchronous set of interactions that are buyer-driven. Sometimes the customer will explore these experiences by themselves, sometimes with a group of their colleagues, and sometimes with a sales executive who is guiding them through the experience. No longer do buyers and salespeople have to wait for a scheduled meeting – metaverse experiences are available wherever and whenever the buyer needs them.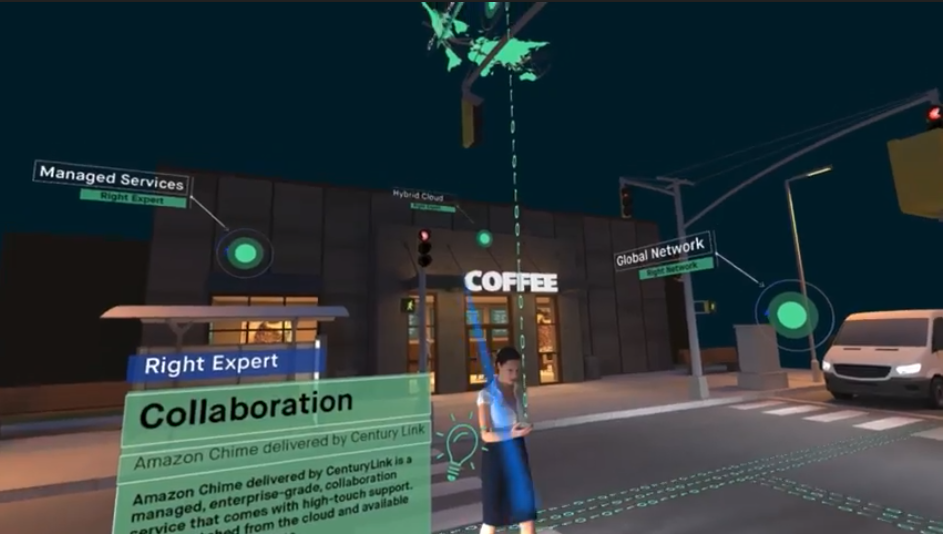 The Value of Hybrid Interactivity
Rather than simply digitizing physical experiences, Kaon's platform supercharges experiences with personalized interactive elements to which anyone has individualized access. Unlike screen-sharing presentations, this paradigm ensures that each participant has the freedom to control their own journey and that everyone stays engaged throughout the duration of the discussion. Participants may be in a hybrid collaboration, where some people are using VR headsets and others may be exploring the space using AR, while others may be using a web experience and some may be physically together in a conference room using a large touch-screen.
Why is this important? Twenty-five years of experience with B2B digital interactive technology has proven that each person has their own way of exploring and understanding. Yet, there are three common threads to creating value in these B2B sales and marketing digital interactive experiences:
The experience must be useful and provide relevant information that resonates with the user (what we call the "knowledge transfer" part of the experience).
The experience must connect with the user in a multi-sensory manner (that is to say, the user can't just sit back and watch; they must be actively involved using their senses of sight, touch, and hearing).
The experience has to deliver an emotional connection. It must go well beyond a simple set of data entry or mouse-click tasks, often providing a fun and even exciting experience.
These three dimensions of value offer the best opportunity for B2B companies to engage buyers in a digital journey of discovery that reveals why the company's solutions offer competitive value. When buyers engage directly with a hybrid interactive experience, they learn more thoroughly, remember longer, and make better buying decisions with greater confidence.
"B2B technology sellers are looking for a sweet spot that delivers a superior experience to buyers, without the time, disruption, and investment required to transform the commercial model. Today, most revenue teams are in the messy middle between triaging a virtual selling approach and true transformation. Sales organizations have moved beyond the early days of adapting to the scale displacement of their revenue teams but are struggling to find practical and affordable and scalable ways to arm their 4D sales reps with more channel-ready content that meets buyers' high expectations for relevance, personalization, visualization, and collaboration in a remote setting situation."

— Kaon Interactive CEO & President Gavin Finn
The metaverse can be much more than a marketing gimmick or consumer-only technology. It yields significant benefits for B2B sales, delivering memorable shared experiences that transform buyer interactions from passive encounters to interactive, knowledge-sharing collaborations.
Get your copy →
Smart marketing leaders know digital transformation is an ongoing process vital to surviving recessions. Learn how they're using technology to meet evolving buyer demands.