blog
Heavy Industry's Customer Engagement Digital Transformation
Estimated Reading Time: 4 minutes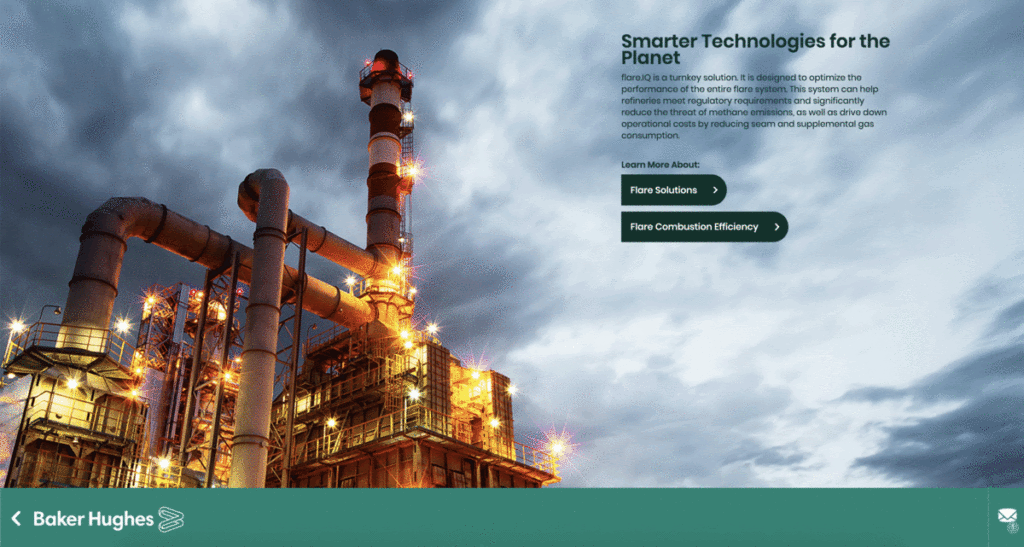 Heavy Industry's Sales and Marketing Challenges
As social, economic, and political pressures continue to drive innovation in heavy industry, many companies in this sector struggle not only to map and manage their digital transformation journey but also to apply the fundamentals of this transformation to their sales and marketing efforts.
Tasked with the complex mission of offering new and innovative solutions, B2B leaders often fail to effectively communicate their complex story and turn to their sales and marketing executives to overcome the challenge. To be conveyed effectively, the heavy industry story needs to be visually engaging, consistent, and easily accessible across all channels of a hybrid buyer's journey. Industry leaders must become digital storytellers of their value.
According to McKinsey, these are the struggles heavy industry sales and marketing leaders currently face:
Adjusting the value message to the vertical and customer archetype
Improving the end-to-end customer experience
Making customers aware of the latest product innovations with the right message at the right time
Breaking down silos between the sales and marketing teams
Having the agility to modify value stories based on industry consolidation or change
The Customer Engagement Digital Transformation
The simple answer to engaging with your customers is offering them something to interact with at their own pace. The challenge is in creating an interactive experience that can be reused and expanded across the entire buyer's journey – whether for digital self-service, virtual meetings and events, or in-person.
Your buyers give 23% of their attention during online conferences and video calls. If you're unable to connect with them on an intellectual, emotional, and sensory level, you have lost them already. Considering the pace of change in heavy industry, traditional content like videos, brochures, fact sheets, and slide presentations are outdated as soon as they're created.
Consistent Omnichannel (NOT Multi-Channel) Engagement
Multi-channel marketing just means that there are multiple channels of communication with your customers. Channels like social media, mobile, landing pages, websites, email campaigns, and others operate independently with separate strategies and goals.
Omnichannel marketing provides customers with an integrated and seamless experience across all channels.
The benefits of a proper omnichannel strategy are abundant, but according to McKinsey, haphazard efforts at omnichannel can destroy value. Omnichannel is not just a buzzword; it's what your customers are demanding of you. Your value story needs to be tailored for verticals such as upstream, midstream, and downstream. It needs to be updated and available to engage your customers everywhere – on their computers, phones, tablets, web browsers, social feeds, and inboxes. Research from Forrester shows that 68% of B2B buyers prefer to conduct online research on their own, and 63% of them do it from a mobile device.
An omnichannel approach includes having marketing tools that tell your value story for you on your customer's phone, potentially without sales involvement.
How Rockwell Automation Delivers Omnichannel, Value-Based Storytelling
Seeing concerning trends regarding customer engagement at virtual events, Rockwell Automation decided to head in a different direction. Tired of spending millions of dollars on a one-time event, just to start from scratch for the next one, Rockwell created an interactive, immersive storytelling application that could be used during their annual event (which pivoted to virtual as a result of the pandemic) and, afterwards, as a virtual experience and briefing center, in marketing campaigns, and during sales meetings (whether virtual or in-person).
The immersive experience netted out more than 2,000 hours of hands-on engagement and led to $50 million in opportunities in the six months that the experience was live for the event. Because Rockwell chose an extensible, enterprise SaaS platform, their application was built only once and seamlessly deployed everywhere on all devices and operating systems for all of their use cases – online and offline. Consistently articulating their value message throughout their buyers' hybrid journeys cost-effectively supercharges omnichannel customer engagement and accelerates buying discussions. In addition, their investment continues generating engagement, revenue, and results.
Click here to read more about Rockwell Automation's digital transformation.
The Power of the Platform
Rockwell Automation was able to provide real engagement and a reusable, omnichannel experience because they had the power of an extensible, enterprise SaaS platform. When leveraging such a platform, enterprise-level companies can elevate customer engagement throughout today's new hybrid funnel by putting customers in the driver's seat to effectively uncover relevant value. The power of a platform is that it allows companies to constantly evolve – without disruption – to drive sales productivity, marketing efficiency, and elevated customer engagement.
Enterprise-level customer engagement platforms must include collaboration technologies and tools, such as augmented reality, virtual reality, interactive whiteboards, real-time sharing, and engagement analytics. Putting such a powerful tool in your customers' and salespeople's hands has been proven to shorten sales cycles, increase customer knowledge and retention, improve overall customer experience, and eliminate silos between sales and marketing teams.
Contact us to learn how Kaon's platform can help to solve your heavy industry sales and marketing challenges.
Get your copy →
Smart marketing leaders know digital transformation is an ongoing process vital to surviving recessions. Learn how they're using technology to meet evolving buyer demands.