blog
Hybrid Customer Engagement Strategies for 2023 Omnichannel Selling
Estimated Reading Time: 4 minutes
The B2B buying environment has drastically changed over the past few years, so our content and digital collaboration strategies must change with changing buyer expectations. The most important difficulty to overcome is keeping your customer engaged with you throughout their buying process to discover the value your solution offers. To do this, you need to make your content available to them whenever and wherever they are looking for it.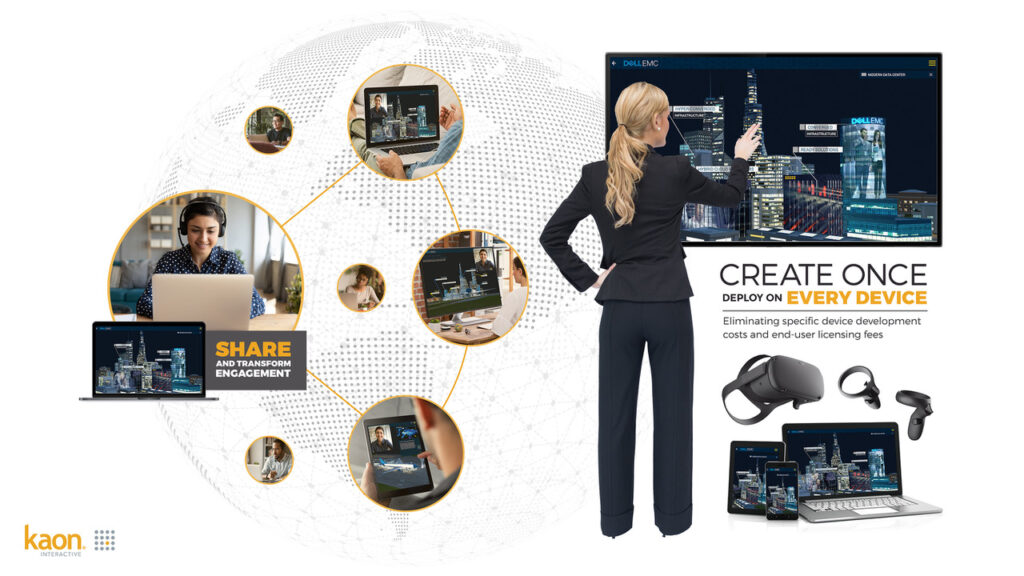 Realign digital marketing strategies to meet buyer expectations
If the pandemic has taught us anything, it's that sellers have benefited by pivoting to a multi-channel, strategically hybrid environment. With potential buyers wanting to take the reins on their own experience, delivering highly engaging, value-driven content and experiences everywhere is more important than ever to ensure buyers are absorbing your message. Per Gartner, the simple fact is that 83% of your buyers do not want to talk to a sales representative until they are almost ready to purchase.
With future-proofing in mind, it's evident that hybrid sales models are successful and will only continue to evolve. While the pandemic is, in many ways, responsible for this shift in buyer behavior, changing buyer demographics and technological advancements played a large, albeit overshadowed, role. Hybrid models didn't thrive because of the pandemic, they thrived in spite of it. We simply didn't understand the true potential and longevity at the time.
Communicate value through new customer engagement platforms
To clearly communicate value in an ever-changing market, you need the agility to create and scale interactive customer experiences that can be used in-person and online (often at the same time) for a hybrid marketing and sales strategy. Interactivity is the key word here, when it comes to these experiences, as science has shown us that it increases knowledge retention, creates an emotional connection, and makes the buyer feel in control of their own problem-solving journey.
But what does this mean for your digital marketing strategy? ActiveCampaign defines a hybrid sales model as a way of combining existing sales tactics and integrating them across multiple platforms.
"A hybrid sales model combines digital and in-person outreach for B2B sales. As more consumers prefer that at least part of their buying experience is done online, hybrid sales cater to where customers want to research, evaluate, and buy. By using omnichannel outreach, reps can engage with sales leads and provide information about a product or service either in-person, through digital channels like social media or email, over the phone, or a combination of all three."

— ActiveCampaign
Buyers and sellers can't be everywhere all at once, but your strategy execution can. Setting up multiple channels and touchpoints allows buyers to feel seen and heard based on their specific needs. By laying a foundation on the principle of omnichannel engagement, the bond between buyers and sellers is supported by a common goal and message, as lines of communication open for further conversations.
The changing landscape of B2B sales and marketing strategy
McKinsey & Company studied how the sales landscape has changed since the initial onset of the pandemic.
"More than three-quarters of buyers and sellers say they now prefer digital self-serve and remote human engagement over face-to-face interactions—a sentiment that has steadily intensified even after lockdowns have ended."

— McKinsey & Company
Not only have your buyers developed a proclivity toward digital engagement, but your sellers also. Equipping sales teams with the tools and digital content to manage buyer communication and collaboration across multiple channels sets them up for success.
The needs for increasing remote workforces for automation, distributed project management, digital-first sales, and marketing tools has never been greater. Investing in a buyer engagement platform that can support true hybrid engagement meets your buyers and sellers where they are today, and where they will be in the future.
Are you ready to be a part of the change that's here to stay? Click here to find out more about how to shift to a hybrid, omnichannel selling model.
Explore the Kaon Platform Difference
Get your copy →
Smart marketing leaders know digital transformation is an ongoing process vital to surviving recessions. Learn how they're using technology to meet evolving buyer demands.